Little Drummer Boy

.
...
Someday At Christmas..

..
As we move closer and closer to the most celebrated day of the year, how about a moment to reflect on how meaningful the day is for all.
I have friends who are non-Christian, Agnostic, Atheist, Muslim, Hindu, Buddhist, Jewish and,yes by nature of my birth, Christian friends. I have friends who are Jehovah's Witness. While they may not erect a Christmas Tree and may very well not partake in Christmas song, their lives seem to brighten to the Holiday along with billions across the globe who also warm to the spirit of Christmas.
I recently ran across an article that depicts one authors perspective on how Christmas is a Day for humans, not just a day for Christians.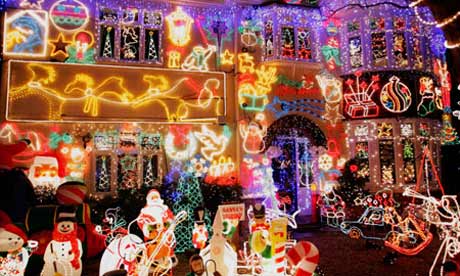 'Most Hindus and Muslims that I know actually celebrate Christmas,' says Vidhya Ramalingam. Photograph: Alamy
Stories about

Christmas

being banned because of potential offence to any one ethnic group have become almost as much a part of the festive season as brussels sprouts – but a multi-faith group has decided it is time to put a stop to the tradition.




Concerned about the divisive effect of such stories, the

Phoenix inter-community initiative

, a group of bloggers, activists and community representatives, have come together to try to demonstrate support and respect for Christmas among different faiths.



Julie Siddiqui, vice-president of the Islamic Society of Britain (ISB), said: "Almost every year for the last few years we see some sort of story in the local or national papers that local authorities have changed the name of Christmas, are not having lights, or have banned it.



"I think it's damaging in terms of community relations. No one is asking for Christmas to be banned, Muslims certainly haven't. The inference is often that it's coming from Muslims."
Merry Christmas to all and may we have peace in the coming year.