Often we think of Los Angeles and the State of California as an American Island of Diversity and Tolerance. A place so free of the trappings of racism, there are only rare cases that warrant public dialog. Sure, Northern California has its share of white supremacists just as does every state in the nation (not sure about Hawaii). Southern California is so outside the commonly accepted NON-post racial US as any state; with possible the only rival state is a close second: New York State. Of course we are periodically reminded of the following incidents from the state.
NBC Los Angeles News 4
The O.C (Orange County) Weekly obtained a copy of an email sent by Marilyn Davenport, a Southern California Tea Party activist and member of the central committee of the Orange County Republican Party.
The email titled, "Now you know why no birth certificate," was sent to a small number of fellow conservatives and had an image attached of Obama's face photoshopped on to the youngest member of an apparent family of apes.

Davenport claimed the attached picture

was just a "joke" and only meant to be viewed by a small number of people.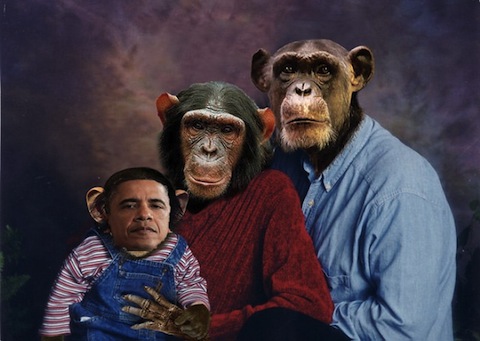 For the most part we are exposed to less such overt cases of racism out of the Southern California. Before I write farther, the following has nothing to do with a blanket indictment of a geographic region of the nation and its preponderance of progressive people, ideals, and principles. The following story really drives home the deep-roots of racism and insensitivity embedded in the nation. When a story such as the following emanates from one of the nation's higher institutions of learning, the nation's state of race is clearly illustrated for the world to witness.
No matter the level of accomplishment. No matter the level of overwhelming intellect and contributions to humanity, African-Americans are all to often reminded of 'their place' in our society. Hollywood's current highest earning Producer-Director, Tyler Perry, was not long ago profiled just outside his Atlanta, GA studio. ABC News April 2, 2012. An even more illustrative example raised its ugly head during a GOP Presidential Debate ( in South Carolina). Fox New's Juan Williams asked Gingrich about his comments related to African-American high school kids and working as janitors. The next day a member of a Gingrich audience loudly thanked Newt for "putting Williams in his place". Despite my disdain for Williams and his Fox News conservatism, I do not feel at his age and levfelof journalistic professionalism, he has as PLACE.
We are awaiting the first high-prohile high-earning professional athlete to fall victim to Arizona's Immigration Law; it will happen. One can only hope it does not end in a severe beating or death from one of the states less tolerant (bigoted) police officers or state troopers. Every state has ample numbers of such people.
A horrendous case of such racism and "in-your-face" white-privilege is ongoing at the University of California - Los Angeles (UCLA), of all universities across the nation.
Published on May 10, 2012 by ShamefulHonestTruth




A respected African American faculty surgeon filed a racial discrimination suit against the UCLA Medical Center and UC Regents. Dr. Christian Head has been intentionally degraded based on his race and UCLA officials have ignored blatant acts of racial discrimination, including an edited photo depicting Dr. Head as a gorilla being sodomized by his supervisor. That alone is offensive. But the fact that the photo was publicly presented for laughs during an annual medical school sponsored event attended by more than 200 physicians, faculty, residents and guests is both shocking and indefensible. Hear what Dr. Head has endured and what UCLA officials continue ignore.
Change Dot Org, is has
placed
a
petition
on
its
website in effort to have UCLA Medical Center
management reversed their lack of
attention
to treatment received by the accomplished
physician
, as well as ongoing mistreatment.
The activist organization also posted the following informational plea along with the petition.
It is shameful that a respected African American faculty surgeon at the UCLA Medical Center could be intentionally demeaned based on his race and that university officials could ignore blatant acts of racial discrimination. But that is what is happening at UCLA.
Imagine being graphically depicted as a gorilla in a slideshow photo. That alone is offensive. But the fact that the slide was publicly presented for laughs during an annual medical school sponsored event attended by more than 200 physicians, faculty, residents and guests is both shocking and indefensible.
Not only was Dr. Christian Head's face superimposed onto the body of a gorilla standing on all-fours, but the photo also depicted him being sodomized by his Caucasian supervisor. This, unfortunately, was just one of a series of racially motivated incidents that Dr. Head has had to deal with over the past several years at UCLA. His complaints to administrative leaders at the Medical Center, the University and UC Regents have gone unanswered. In fact, his complaints have spurred additional acts of humiliation, attempts to push him out of academic medicine and retaliation.
The Los Angeles Wave and Los Angeles Times newspapers have written about the vindictive and racially motivated actions that UCLA Medical Center supervisors have taken against Dr. Head, the ONLY African American surgeon in the Head & Neck Department. In fact, Dr. Head is only 1 of 2 tenured African American teaching surgeons in the entire UCLA Medical School out of more than 200 faculty surgeons.
Rather than do the right thing to keep the work environment free from discrimination, UCLA has opted to ignore Dr. Head's formal requests to stop the harassment and retaliation against him. Racial discrimination has no place in institutions of higher education or, for that matter, anywhere in our society.
Tell UCLA to stop the discrimination.
As cases of such behavior have grown exponentially since the UCLA physician was used for 'privileged' humor, we are living in a nation that some claim President Obama has divided. The incident took place well before president Obama was inaugurated to the Oval Office. While incidents such as the blatant racism exhibit at the UCLA physicians expense, it is obvious the mindset that led to the incident has permeated the very fabric of America.
As I watched an early morning clip of the 'smug' opportunistic Marco Rubio, Senator Florida, speak about how Barack Obama has divided that nation, I could not help but think about just how far the likes of Rubio and his political cohorts have undercut the very congeniality and

cohesiveness of our social structure. In my opinion, the moment Barack Obama won the Presidency in 2008,the nation became divided;the reason for my opine has been stated frequently, so repeating the point is not relevant. The incident and continuing repercussions of the UCLA racism are the tip of the iceberg of what Rubio and his party refuse to work to reverse. Instead, they nurture the division, and in many cases perpetrate such abuse.
While the writer literally loves visits to Los Angeles, It is hard to imagine a UCLA (Medical Center) that would tarnish the schools reputation by not properly dispensing of all issues associated with the wrong s against the doctor.