Charles Gaba's BrainWrap: "The Graph
"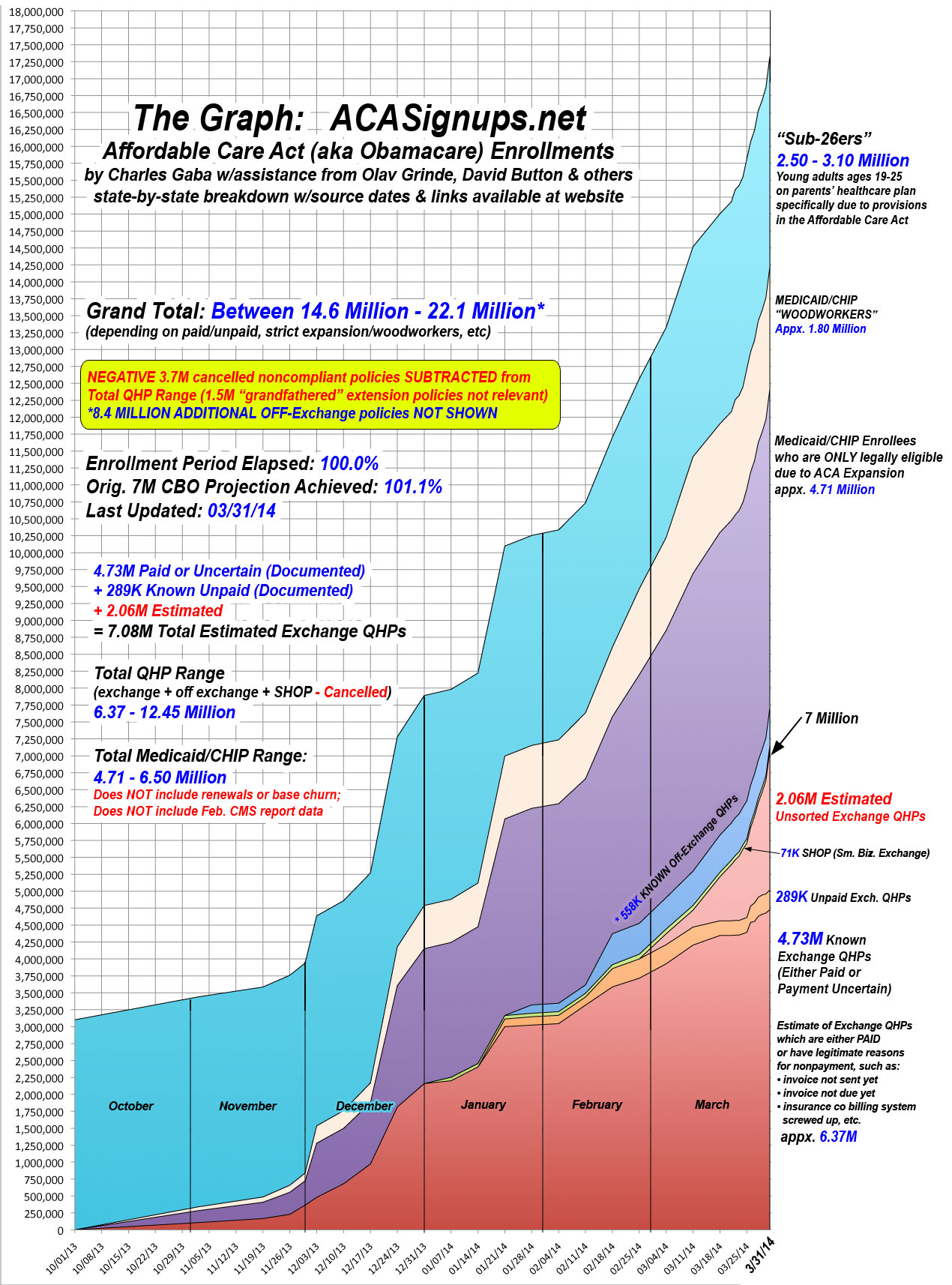 Let's take a ride through GOP (ism) at its very worse. The following video segments are each less than two minute exhibiton of people who obvioulsy hope and pray for ACa failure.
We will start with the GOP Playbook 'death spiral.' Our video journey will end with the new playbook mantra...
"How many previously uninsured?"
See and read more after the break below

We recognize two things about the eventual outcomes of the ACA. The number of enrollees will increase as more and more realize the law is on the books. We also realize there will be people who will fall-off the registrations lists due to non-payment. It is as safe a mantra as the GOP working to cut Medicaid and cut rework Medicare. It will happen, but let's for now, move forward with yet another example of the overwhelming failure of the GOP, their uber-wealthy money brokers and conservatism et al.


http://youtu.be/Plav2x3H-o0
And, the ACA moves forward!
HealthCare Dot Gov
Rights & Protections
Whether you need health coverage or have it already, the health care law offers new rights and protections that make coverage fairer and easier to understand.
Some rights and protections apply to plans in the Health Insurance Marketplace or other individual insurance, some apply to job-based plans, and some apply to all health coverage.
Use this guide to learn about your rights and protections today.
How the health care law protects you

In addition to the rights and benefits included in this guide, here are some others:
Rate Review & the 80/20 Rule
The health care law provides 2 new ways to hold insurance companies accountable and help keep your costs down: Rate Review and the 80/20 rule.
Rate Review

Rate Review helps protect you from unreasonable rate increases. Insurance companies must now publicly justify any rate increase of 10% or more before raising your premium. This does not apply to

grandfathered

plans.
80/20 Rule

The 80/20 Rule generally requires insurance companies to spend at least 80% of the money they take in on premiums on your health care and quality improvement activities instead of administrative, overhead, and marketing costs.
The 80/20 rule is sometimes known as Medical Loss Ratio, or MLR. If an insurance company uses 80 cents out of every premium dollar to pay for your medical claims and activities that improve the quality of care, the company has a Medical Loss Ratio of 80%.
Insurance companies selling to large groups (usually more than 50 employees) must spend at least 85% of premiums on care and quality improvement.
If your insurance company doesn't meet these requirements, you'll get a rebate from your premiums.
Will I get a rebate check from my insurance company?

If your insurance company doesn't meet its 80/20 targets for the year, you'll get back some of the premium that you paid. You may see the rebate in a number of ways:

A rebate check in the mail

A lump-sum deposit into the same account that was used to pay the premium, if you paid by credit card or debit card

A direct reduction in your future premium

Your employer may also use one of the above rebate methods, or apply the rebate in a way that benefits employees