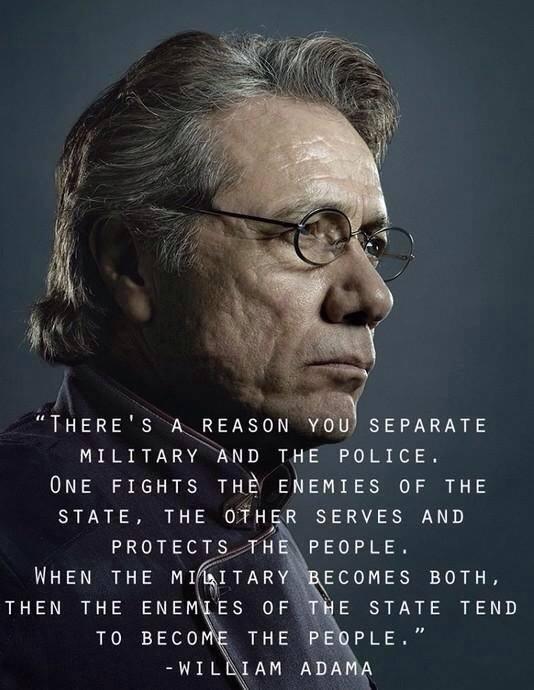 #Ferguson PD worried about unrest and danger from protesters. There'd be NO UNREST if Darren Wilson was in jail. pic.twitter.com/ZpRsjE9dml
— HoodiesUpMusicLoud™ (@MrMilitantNegro) August 19, 2014
This old lady seems like a major threat to public safety: pic.twitter.com/IcA32cNox8
— Matt Yglesias (@mattyglesias) August 19, 2014
This lovely lady, Erma Dupree, 55, has been out here for hours cleaning up at the QT in #ferguson. pic.twitter.com/mzQdnb75Ib
— Amanda Terkel (@aterkel) August 18, 2014
Apartheid revisited?
http://youtu.be/Ej-KqF5CJes




Uploaded on Jul 23, 2008




This is footage of the increasing civil unrest and township violence that led to the government declaring a State of Emergency on 20 July 1985.




Then-President of South Africa P.W. Botha declared the State of Emergency in 36 magisterial districts. Areas affected were the Eastern Cape, and the PWV region ("Pretoria, Witwatersrand, Vereeniging"). Three months later the Western Cape was included as well. During this state of emergency about 2,436 people were detained under the Internal Security Act. This act gave police and the military sweeping powers. The government could implement curfews controlling the movement of people. The president could rule by decree without referring to the constitution or to parliament.




Four days before the ten-year commemoration of the Soweto uprising, another state of emergency was declared on 12 June 1986 to cover the whole country. The government amended the Public Security Act, expanding its powers to include the right to declare certain places "unrest areas". This allowed the state to employ extraordinary measures to crush protests in these areas. Television cameras were banned from entering "unrest areas". The state broadcaster, the South African Broadcasting Corporation (SABC) provided propaganda in support of the government. This version of reality was challenged by a range of pro-ANC alternative publications.




In 1989, with the State of Emergency extended to a fourth year, Prime Minister Botha met Mandela and agreed to work for a peaceful solution to the conflict in the country. Talks commenced with the ANC, prominent business leaders, the Commonwealth and the Eminent Persons Group.




The state of emergency continued until 1990, when F.W. de Klerk became the State President, and lifted the 30-year ban on leading anti-apartheid groups the African National Congress, the smaller Pan Africanist Congress and the South African Communist Party. He also made his first public commitment to release jailed ANC leader Nelson Mandela, returned to press freedom and suspended the death penalty.



About 10 humvees now at the #ferguson command center. Most are Military Policeman. pic.twitter.com/0xrPOpjHNV via @ShimonPro — PzFeed Top News (@PzFeed) August 18, 2014
Don Lemon feels the Push!
#Ferguson PD worried about unrest and danger from protesters. There'd be NO UNREST if Darren Wilson was in jail. pic.twitter.com/ZpRsjE9dml — HoodiesUpMusicLoud™ (@MrMilitantNegro) August 19, 2014
Value of military gear transferred 2 US police grew 45,000% frm 1990-2013 http://t.co/AJV9eahO9v pic.twitter.com/g241ockXSO #Ferguson #UniteBlue — vanillathehun (@JenD1974) August 19, 2014