50 Years Later....A President speaks at the Edmund Pettus Bridge and a former President (Republican) attends......
President Obama's
full speech
, March 7, 2015
Black Sunday March 7, 1965 and the John Lewis beat-down
Despite a miniscule census of a meager percent of African-American who claimed the GOP, the party has placed a "Whites Only" sign as a de facto moniker. In the eve of overwhelming House chamber support for an Israeli leader, GOP leadership boycotts an important celebration and commemoration of US History.
Some in the nation simply do not "get it." We continue to show astonishment at horrific examples of overt racism and we seem to accept conservative America has no interest equal rights, civil rights and human rights.
Many actually live in a false reality social bubble as secure as Fort Knox. They actually believe America is about "we the people" with all Americans treated equally and with equal opportunity for all. These people are actually a danger to the greater society as they provide a naivete laden well plowed and fertile field for political operatives who manipulate issues of race for political gain. They are so inclined to live as stooges for GOP Southern Strategy dogma, they have paradigm(d) into a mindset of social conservatism at the expense of self-preserving rationalizing thought. In order to find Right-wing dogma palatable, one has to have developed a mindset that is the antithesis of old America.
If you need an example of dogma from the Right look closely at these two images and very shot video.
President Obama's State of the Union Address is an unrivaled illustration. Note the boredom, the cell phone use, folded arms and obvious looks of contempt.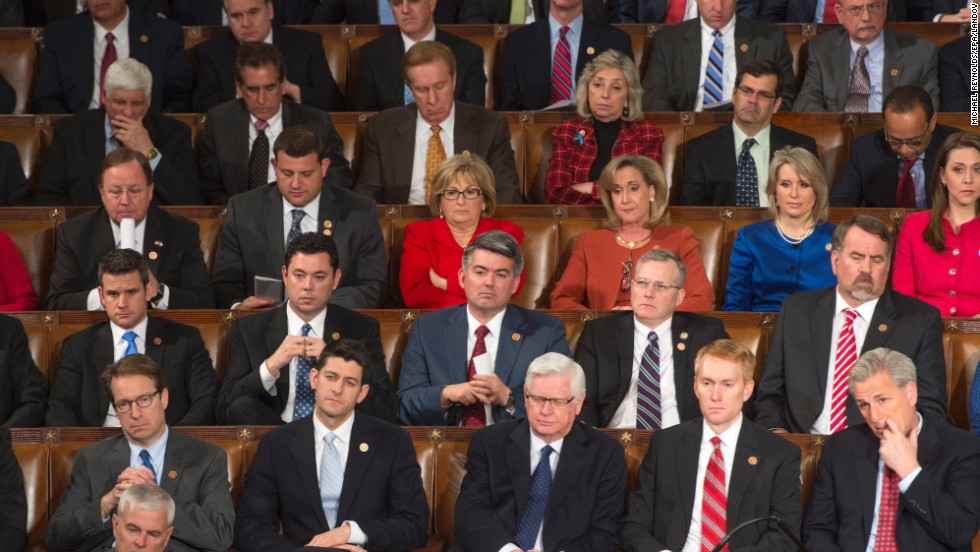 When President Obama took his eloquent Address to equal pay for women the House Leaders (third in ascendancy the US Presidency) performed accordingly:
Fast forward to this past Tuesday as the Israeli Prime Minister delivered a veritable call to war while feeding GOP obstruction against a sitting US president.
Applause?
Netanyahu-warns-Iran-deal-make-Middle-East-nuclear-tinderbox
The images (and the imagery) are stark with over the top applause for a man who clearly seeks opportunity to attack Iran's nuclear facilities. They applaud as if witnessing a resurrection of Christ, while sitting on their hands as President Obama spoke of the following:
military power with strong diplomacy
lift the trade embargo on Cuba
pass legislation authorizing the fight against the Islamic State
cybersecurity
immigration
paid sick and maternity leave
close the gender wage gap, guaranteeing female employees pay that is equal to that of their male counterparts
affordable childcare
increase the minimum wage
climate change
foreign relation
The Republicans in Congress may have offered applause when President Obama spoke of and honored the husband of former Congresswoman Gabby Gifford's and his future stay on the international space station. They also may have offered perfunctory applause when Obama poke of his proposed trade agreement.
The point of my reach back to the SOTU relates to irrational dogma from the Right. It doesn't take an over exercise of your grey matter to know that Republicans at the SOTU would have applaud each item bulleted above if the White House was occupied with Republicans. Of course, my point is a bridge too far, as no Republican would have mentioned the items above. But, the reality of the two events shows very poorly for the GOP and now joins developing Obama history as president.
Let tie this all together. While thousands journey to Selma Alabama to commemorate 50 years post the "Bloody Sunday" march on the Edmund Pettus Bridge.......
...we are reading reports of a from of protest from the GOP.
Politico reported on the obvious "message" absence of all GOP leaders at this Saturday's historic commemoration.
Scores of U.S. lawmakers are converging on tiny Selma, Alabama, for a large commemoration of a civil rights anniversary. But their ranks don't include a single member of House Republican leadership — a point that isn't lost on congressional black leaders.
None of the top leaders — House Speaker John Boehner, Majority Leader Kevin McCarthy or Majority Whip Steve Scalise, who was once thought likely to attend to atone for reports that he once spoke before a white supremacist group — will be in Selma for the three-day event that commemorates the 1965 march and the violence that protesters faced at the hands of white police officers. A number of rank-and-file Republicans have been aggressively lobbying their colleagues to attend, and several black lawmakers concurred.
"It is very disappointing that not a single Republican leader sees the value in participating in this 50th commemoration of the signing of the Voting Rights Act. I had hoped that some of the leadership would attend, but apparently none of them will," said Congressional Black Caucus Chairman G.K. Butterfield of North Carolina. "The Republicans always talk about trying to change their brand and be more appealing to minority folks and be in touch with the interests of African-Americans. This is very disappointing."
Former CBC Chair Marsha Fudge (D-Ohio) agreed.
"Not only do they have an opportunity to participate in something that is historic in this country, but certainly they've lost an opportunity to show the American people that they care," she said. "Their loss."
Re
ad

more
Why anyone would be surprised at the message absence befuddles me? Take look at a most brazen exhibit of contempt for the American Black Community.
First an image from the Mitt Romney website that was to have been posted to the Web the morning after his victory over incumbent President Obama. The following is not a whimsical meme, it was captured in the early morning hours after Romney's concession speech.
The image above could have become an archived we posting and set the stage for the Romney inauguration with the following looming in the shadows. As you view the web posting from Romney's webpage, think about a word posted above: "message."
Did you notice the extent of Romney campaign outreach? Maybe, I should ask more specifically to ward-off personal embarrassment: "Did you notice Romney's website message the Black Community via egregious omission of any linked outreach?"
If Romney and his team chose to overtly ignore 13 plus millions US citizens, should we actually expect current GOP leaders to offer a difference face? The GOP is a party of 9 to 892 whites for a reason. The party is so anti-minority of late any GOP leader who might have attend the event would probably suffer irreparable damage to HIS standing in conservative America.
As a minimum the rational person w
ould think House Whip Steve Scalise would attend to offset revelations of his hobnobbing with white supremacists
as a state official
in a past life.
The message is clear! Despite a few well compensated black mouthpieces who lavish copious praise on the GOP while sitting quietly as conservative America shows its increasingly and racist underbelly, the GOP remains a relic of our segregationist past. A past the GOP clearly has no interest in staking-out an opposite position while sending a positive forward message.