While
all Republican are not racist, it is safe to say all racist I have observed are Republican!
Trumps
utter and well received racism




CSPAN Transcript excerpt.... Trump Launches GOP run for the 2016 nomination.
WHEN WAS THE LAST TIME YOU SAW A CHEVROLET IN TOKYO? IT DOESN'T EXIST, FOLKS. THEY BEAT US ALL THE TIME. WHEN DO WE BEAT MEXICO AT THE BORDER? THEY ARE LAUGHING AT US AT OUR STUPIDITY. AND NOW THEY ARE BEATING US ECONOMICALLY. THEY ARE NOT OUR FRIEND, BELIEVE ME, BUT THEY ARE KILLING US ECONOMICALLY. THE U.S. HAS BECOME A DUMPING GROUND FOR EVERYBODY ELSE'S PROBLEMS. [APPLAUSE] THANK YOU. IT'S TRUE. AND THESE ARE THE BEST IN THE FINEST. WE MEXICO SENDS ITS PEOPLE, THEY ARE NOT SENDING THEIR BEST. THEY ARE NOT SENDING YOU. THEY ARE NOT SENDING YOU. THEY ARE SENDING PEOPLE THAT HAVE LOTS OF PROBLEMS, AND THEY ARE BRINGING THOSE PROBLEMS TO US. THEY ARE BRINGING DRUGS, THEY ARE BRINGING CRIME, THEIR RAPISTS, AND SOME I ASSUME ARE GOOD PEOPLE BUT I SPEAK TO BORDER GUARDS AND THEY TELL US WHAT WE ARE GETTING. AND IT ONLY MAKES COMMON SENSE. IT ONLY MAKES COMMON SENSE. THEY ARE SENDING US NOT THE RIGHT PEOPLE GET IT'S COMING FROM MORE THAN MEXICO. IT'S COMING FROM ALL OVER SOUTH AND LATIN AMERICA, AND IT'S COMING PROBABLY PROBABLY FROM THE MIDDLE EAST.
The flak from Trump's campaign announcement speech is reverberating around the GOP like the first SCOTUS ruling to uphold provisions of the ACA. On a more nascent basis, GOP reaction to the SCOTUS ACA ruling of the past week might pale comparison to Trumps campaign tsunami.
Do you recall this?
Piyush "Bobby" Jindal 2013
It seems the GOP cannot cloak its racist and bigoted underbelly no matter the words spewed at GOP events. The words are mere speech components the party's actions speaks volumes. We are accustomed a party with formidable mastery at spewing false politicking mantra (eg. fiscal conservatives, compassionate conservatives, moral majority, "jobs"); it appears (on the other hand) the party cannot hide its inner core social cancers over the long haul.
Two Trump dynamics kicked-in after his remarks. While NBC/Universal "fired" the candidate and

Macy's withdrew

all Trump products lines from its displays and inventories, Trump's polling ratings catapulted the firebrand racist to second in campaign standings behind Jeb Bush. Another polling authority placed Trump slightly ahead of Bush.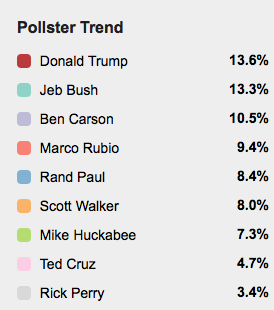 All Hail the GOP!
Despite media empire and product merchandising crumbling Trump, remains defiant regarding his remarks.
He even proves the extent of his insanity when directly asked about his assertions of Mexicans as rapists. The following
Mediaite
post is a prelude to CNN's programming
a full segment with Lemon and Trump later this evening.
Mediaite
Watch as Trump and CNN's realty TV Guy, Don Lemon, discuss Trumps remarks.
All you need to know is that after Trump touted certain statistics, this exchange happened:
LEMON: I read [the stats], that's about women being raped. It's not about criminals coming across the border entering the country.

TRUMP: Somebody's doing the raping, Don. I mean, you know, somebody's doing it. You say it's women being raped. Well, who's doing the raping? Well, how can you say such a thing?
Now, the only problem with that preview clip is that it cuts off before you get to see Lemon's immediate reaction. One can only imagine (or tune into CNN at 10 pm tonight when the two Dons face off).
Watch the video below, via CNN:
http://www.mediaite.com/tv/donald-trump-defends-immigration-comments-somebodys-doing-the-raping/
CNN also surprisingly book a

Media Matters

employee in an afternoon segment. Let's see how that segment flowed.
Watch Media Matters' Angelo Carusone on CNN discussing Macy's business decision to dump Donald Trump:

Posted by

Media Matters for America

on Wednesday, July 1, 2015
Yes, Donald Trump brings his party in from the cold and provides a revealing view of its inner core. While Ted Cruz has leveraged opportunism via joining Trump, other GOP presidential hopefuls haven't joined in support of Trump's racist remarks.
What will the party do after the winner wins-out in the regressive GOP primaries and faces a nation that is not supportive of GOP racism and bigotry?