http://youtu.be/iqkcxbRSzDw
The Raw Story and Jones

post Las Vegas shooting

.
Tea Party's Vegas cop killer Jerad Miller having breakfast with Bundy family members in mid-April
From

The Raw Story

to Jared Miller's love for the camera.
Watch his "The Joker" debut. We now have two killers who planned maim with "The Joker" as a backdrop. (2:05 minutes)
https://www.youtube.com/

...
http://youtu.be/9MJNp-Nf614
Now for a Left perspective on a sub-culture carefully inseminated and nurtured by the GOP and conservative legislative moats for the NRA. The first segment is a lengthy segment, but there are times when information comes with personal requisites.
http://video.msnbc.msn.com/rachel-maddow/54832854#55370904
Do you recall the guy who proudly stood in front of camera and

issued strategy to place women on the front-line

during the BLM Bundy Ranch conflict? We move to former Nevada sheriff Richard Mack. The State of Nevada and its citizens are much better off with Mack as a past sheriff. Apparently, Mack and Miller have something in common, if nothing more than a photo op. A former sheriff and racist spree killer.
Could the image below exist as an example of "birds of a feather...."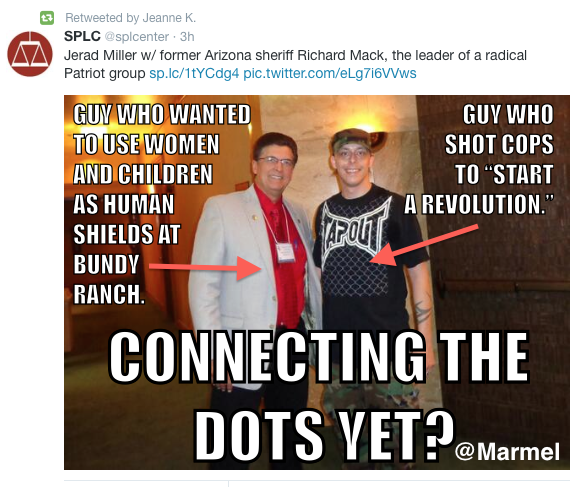 Richard Mack, former sheriff ..........
Let's close with an MSNBC The Ed Show segment broadcast today (June 10th 2014). Dr. Michael Eric Dyson host as fill-in host for Ed Schultz.
Again the segment is a bit long, but paying the price for information will always result in a ticket to being informed and a body of knowledge.
http://on.msnbc.com/1llDSvd
How many times have I written here about the implied dangers in that Gadsden Flag as a moniker for Koch brothers inseminated ideology via their Tea Party?