Fox News feeds its 'tin hat' viewers more gibberish on Obama vacations. Both Ronald Reagan and George W. Bush took vacation that span four to five weeks consecutive each year while in office. In fact, when briefed on the potential for Al Qaeda terror in August 2001; Bush was on vacation at his fake ranch." Three weeks later our world changed forever. A little attention might have warded of the international demise of the United States of America.
Pretty damning chart on Obama's vacations from Fox News. pic.twitter.com/StaLV5Vxxg
— LOLGOP (@LOLGOP) August 22, 2014
Better to be judge by 12 than carried by 6.....
Protester Pecolua Thurman borrowed longstanding "cop saying" for her sign. pic.twitter.com/F1Vn6yLGD5
— Joe Holleman (@STLsherpa) August 22, 2014
Would you call this White Privilege? Before you answer think if the man was black.
@Donna_West RT @rustymk2 @Keith_Dailey man w/arrest record roams aisles of .@kroger w/loaded AK47 #GroceriesNotGuns pic.twitter.com/xd1B5cDCV2
— Cyndl (@cmtwx) August 23, 2014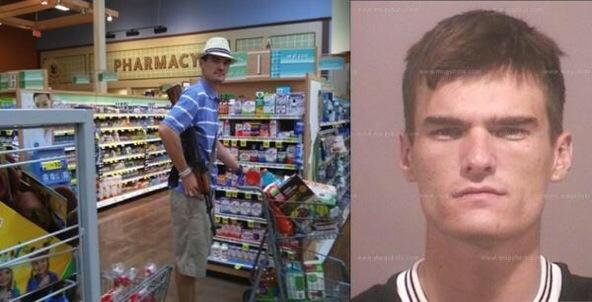 Did I hear demagogues on Fox News ranting about Obama not wearing a tie when making a statement related to ISIS? Well...... I offer three lil Piggies!
Remember when Bush did not wearing a tie when making a statement on the war and @gretawire got upset?Neither do I. pic.twitter.com/KOHMYqrDJH
— SportsGirl101 (@Arianna8927) August 22, 2014
Russell Brand on Fox News and its overt racist lean.
Russell Brand: Racism peddled on #FoxNews is 'so outrageous it's almost art!' http://t.co/3yq4eSigTJ #p2 #tcot pic.twitter.com/EOSVJ5aD3i
— R.Saddler (@Politics_PR) August 22, 2014
Really now!
Even more worrying then the militarization of the police: The militarization of hamburgers pic.twitter.com/0WVHENd7u7
— The Daily Edge (@TheDailyEdge) August 23, 2014
A reminder of times long past!
Norman Rockwell, then and now #UniteBlue #LibCrib pic.twitter.com/PhRSIhP1gv
— vanillathehun (@JenD1974) August 23, 2014
Now let's remind of vacations, since every time the Obamas even think of time-off for the busiest and most demanding job across the globe, the Right goes silly-dilly.
President Obama's vacation politics. @jonallendc gives his take: http://t.co/ByqLqAHzyw pic.twitter.com/14P227kSeB
— The Cycle (@thecyclemsnbc) August 23, 2014
While the Right disparages one of the nation's most prolific president's since FDR, the auto industry continues to flourish. Recall, the Right would have allowed our auto industry to fold-up and become chattel for foreign corporatists.
RT to spread the word: U.S. auto production is at its highest rate since 2002 → http://t.co/od7xUR3DOl pic.twitter.com/h0pgzv3Led
— The White House (@WhiteHouse) August 21, 2014