Today's Tree is about the US and our growing plague: Koch Oligarchy. Before we move to the various branches, let's take a look at how Koch stooges influence our world.
Any exploration of Kochism flows through GOP leaders and nascent governors (eg. Scott Walker, Rick Scott etc.)
consider the tea party and GOP mantra "Shut er down." Since, just before the inauguration of then president-elect GOP obstruction was carefully plotted and comprehensive strategy was laid-out for GOP tactical planning execution. If you are naive enough to think the 2013
government
shutdown wasn't a absolute "
woodie
" for the
Kochs
and other GOP money-brokers, you shouldn't bother to visit today's Tree. The GOP enacts no policy, plan nor procedure without clear thumbs-up from Julius Caesar like figures who fund GOP politicians and who collectively exist as the
GOP's
ultimate constituent.
As a possible constituent of the GOP, reflect on how you felt about your elected officials throughout 2013. The Ted Cruz/GOP shutdown has been reported to have cost the nation a $24 billion GDP hit. The shutdown accomplished nothing and failed to even pose a glitch to the then developing Affordable Care Act. Alas, the US tea party led House of Representatives via Cantor and Boehner also provided libido charges to their uber wealthy money brokers. House leadership 54 repeal ObamaCare votes at $1.6 million per vote tallied to an impress $86.4 million figurative tithing for the money-brokers. No you are not the ultimate GOP constituent.
As we move towards the fall mid-term elections, Koch court-jester stooges are in full blossom tithing and groveling. Mitch McConnell's recent major pandering at the Koch California retreat foretells efforts to ensure funding for McConnell's fall campaign. If you think just a bit more deeply,
can
you imagine six more years of McConnell in the US Senate and (based on voter apathy) possibly as Majority Leader.
The Koch-topus has tentacles you and I see and hear each day. Now, why would people who are worth a combined $90 plus billion USD wish to literally own the US government?


Read More After Break Below
The perfect Koch Stooge and Facilitator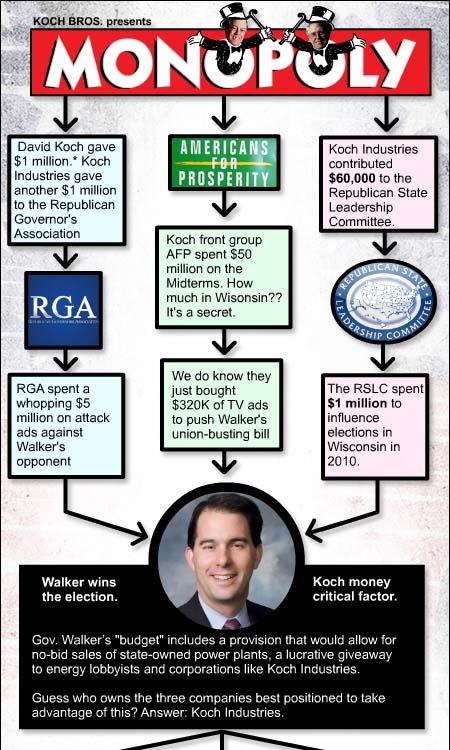 KOCHED!!!