Mike Brown was murdered "full stop."
Are you comfortable what follows?
Bad News For Darren Wilson: More Witnesses Recall Michael Brown Shooting | #UniteBlue http://t.co/dyRUihWTNz pic.twitter.com/nUpOzR8bKw
— Robin Simpson (@robin182zz) September 6, 2014
"@bannerite: RT @mbbiba #FixThePolice! Before you see this! pic.twitter.com/C0MGoIQcVU #UniteBlue #PDMFNB"Slop Cops!
— c e sonny scroggins (@biasbustersofks) September 8, 2014
Instead of arresting Darren Wilson the #Ferguson police fingerprints black kids for the 'community's safety'. pic.twitter.com/1Hx3iUuoB1
— TheAnonMessage (@TheAnonMessage) September 8, 2014
Police Sgt. Threatens AG Holder, Not Punished and Assigned To #Ferguson Protests http://t.co/24PkyZlezq pic.twitter.com/KC8xWLlMQo #FixThePolice
— The Baxter Bean (@TheBaxterBean) September 8, 2014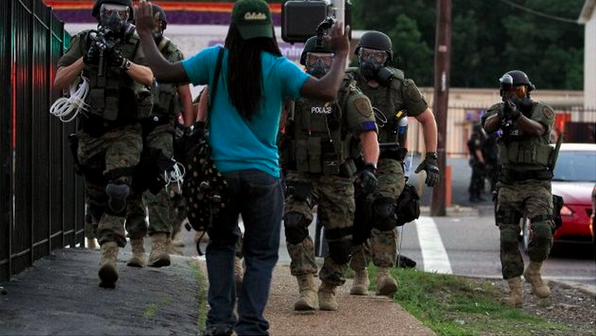 🎶 America, America, God Shed his grace on thee.... 🎶 🎶 #FixThePolice pic.twitter.com/z6v3v7Sw62
— 21st☮Century NOW™ (@AHearted) September 8, 2014
Rt @UniteBlue #Police simply don't need tanks or toxic tear gas to play #war against our own citizens. pic.twitter.com/uzn1sfhZI6 #FixThePolice
— Stormy (@StormyVNV) September 8, 2014
RT @cs4colorado: Media is there to show the truth—police shouldn't be arresting them. #FixThePolice #UniteBlue pic.twitter.com/Kq14ZE6jCe
— Tom Murren (@ClwTom) September 8, 2014
When a 90 year old Holocaust survivor has to tell you to #FixThePolice You seriously need to WAKE UP!!!!!! pic.twitter.com/ShGsgo344E
— Gloria Marion (@Gloretired) September 8, 2014
Bet you also felt safe as others fought for their right to live as a human being. Feeling safe in today's America is dangerous.
#Ferguson is a story going back decades. But 'Now is the Time' to #FixThePolice http://t.co/yNs8aclnUS #UniteBlue pic.twitter.com/xSNJOLaXoz
— K Smith (@Smith83K) September 8, 2014
Don't feel safe.....They can and will find a way to whip you into conformance. Keep voting Republican and watch your world change.
#FixThePolice! Militarized Police are coming to a town near you. pic.twitter.com/NqGEj2bcw1
— Myriah (@mbbiba) September 8, 2014
She is not black!
Georgia Republicans Caught On Camera Manhandling Woman for Videotaping Public Event.http://t.co/I9nAwTbCaI. pic.twitter.com/aftJr2OZGV
— 3ChicsPolitico (@3ChicsPolitico) September 8, 2014