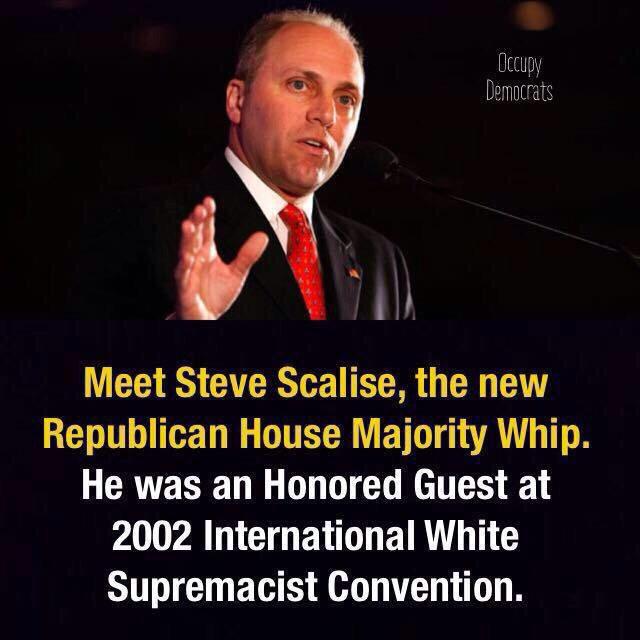 Re-Branding? Did someone say Republican Re-Branding?
Social media has changed the landscape of sharing information worldwide We are finding more and more instances when an blogger has tooled around a web page and located evidence important to the nation information media fails to uncover due to its focus on ratings based broadcast, trimmed writing staff at news papers and the ever increasing entertainment slant to progressive media (MSNBC in particular).
A lone Louisiana blogger has given US media yet another lesson in ferreting out information. Huffington Post and the majority of media are reporting on what can only be called a "caught with pants around the ankles in a compromising position."
Huffington Post
Excerpt
Louisiana political blogger Lamar White Jr.

dug up

a number of posts on Stormfront, one of the original white supremacist websites, that place Scalise at the 2002 EURO gathering. According to one user who attended the conference, Scalise -- then a state representative -- spoke to the organization at a

workshop

"to teach the most effective and up-to-date methods of civil rights and heritage related activism."
According to another

Stormfront

post, the National/International EURO Workshop on Civil Rights was held from May 17 to 18, 2002, at the Landmark/Best Western Hotel in Metairie, Louisiana. The conference was also

listed

on an Anti-Defamation League list of extremist events for that year.
The year 2002 was ages ago, right? Of course, if you are seeking solace in the passage of time along with a flawed sense of security in the prospect Scalise had no idea he was addressing ;a group of overt racists. Time does not forgive the wrongs of consorting with white supremacists, unless one spends the following years as champion of civil and human rights. Scalise ;certainly does not fit that mold.
Think of a personal credo with regard to Scalise and his "regretful" visit with white supremacist.
When you wallow with a pig, the pig loves it. You are wallow at this level in his pen...and

now you stink

.
Let's catch up on the more evidence the GOP has bigoted and racist fissure, it will never shed.
Ed Schultz and guest panel explored issues related to David Duke, Scalise and events such as Scalise's speaking engagement.
How about a look at a few Twitter post regarding Scalise's visit with the extremely "Dark Side?" Or, should I say the extreme "White Side." First, a 2004 post published by Sam Stein.