Fiance?
We at the TPI will report on scandal and influence peddling when we it comes to the light of day. Regardless, of political party or poli/social ideology, scandal is scandal; and it is abhorrent.
Oregon Governor Announces Resignation Amid Ethics Scandal
According to the

Associated Press

, Oregon Gov. John Kitzhaber (D) is resigning amid an ethics scandal.
Kitzhaber had resisted calls for him to step down, even from his powerful Democratic colleagues, as he and his fiancée are facing a criminal investigation over "influence peddling." Cylvi Hayes, Kitzhaber's fiancée, allegedly used her relationship with the governor to enhance her green energy consulting business. In addition, Kitzhaber allegedly ordered state officials to destroy his emails and other records.
According to the AP, Oregon's Secretary of State Kate Brown will likely assume the office, which would make her the first openly bisexual U.S. governor. Unlike most states, Oregon does not have a lieutenant governor, making the secretary of state the #2 position.
Kitzhaber also released a statement in which he said he was "charged, tried, convicted and sentenced by the media with no due process and no independent verification of the allegations involved"
: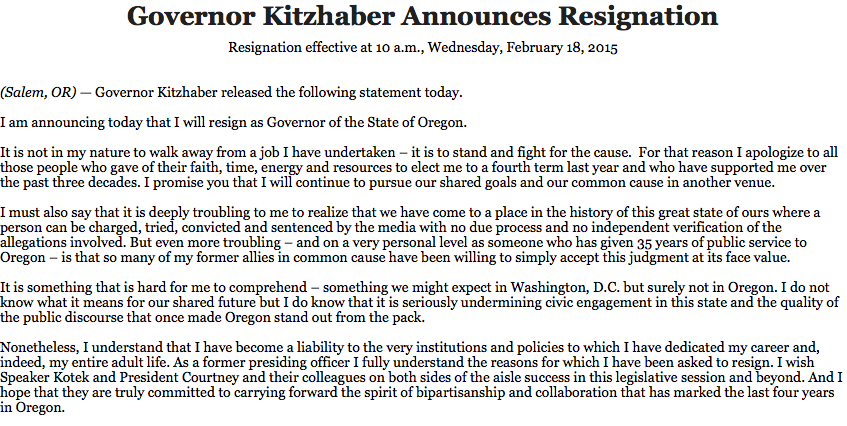 – –
Shameful behavior regardless of party begets shameful resignations.