Millions across America actually believe that we live in a level and diverse world. Many those millions get their non-local news via cable television. Once the person moves into a quest for staying abreast of news with beyond local news (and discussion of current events), the person moves into a trap. They are trapped in a world manifest via electronic media that focused on ratings based on broadcast viewers.
http://youtu.be/6AQRCBz-ELg
February 11, 2015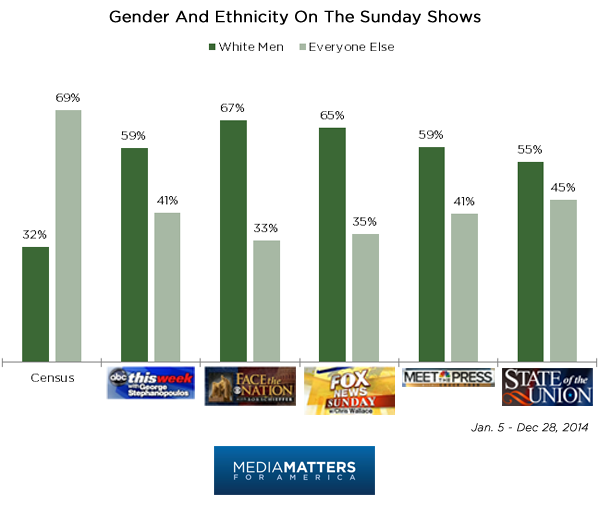 Excerpt
As part of our annual analysis of the Sunday morning political shows, Media Matters found that only 54 percent of Meet the Press guests were white men from when Todd took over hosting duties from David Gregory on September 7 through the end of 2014.
While that number is high relative to the overall population, it represents a seven-point drop compared to 2014 guests during Gregory's tenure. The figure also made Todd's Meet the Press more diverse by that measure than CNN's State of the Union, ABC's This Week, Fox's Fox News Sunday, or CBS' Face the Nation -- beating the latter two programs by more than ten percentage points.
Breaking the numbers down further, 28 percent of Todd's guests were women and 28 percent were people of color, both improvements from Gregory's totals and more diverse by those measures than the other four programs.
Read more
Foreign affairs gender diversity is virtually non-existent.
Cable news has a huge gender disparity in how it covers foreign affairs and national security: http://t.co/6xejlj8Hhk pic.twitter.com/hQAeMwENpn
— Media Matters (@mmfa) February 10, 2015
On February 10th, 2015, Media Matters published the results of a study that yielded a charted absence of women guest on cable news talks shows when the topic was foreign Affairs and National Security.
Fewer Than One-In-Four National Security And Foreign Affairs Guests Were Women. Women comprised just 22 percent of nearly 6,000 total guests and commentators featured during weekday evening and primetime foreign affairs and national security coverage on CNN, Fox News, and MSNBC in 2014.

Enormous Gender Disparity Present Across All Three Outlets. Fox News featured women in roughly 25 percent of recorded segments, while MSNBC and CNN each featured female guests in just over 20 percent of segments discussing foreign affairs and national security.
The problem? Do we really want to live in a nation where cable news (media) is a driving force of our inner psyches, an information repository and a powerful mind-shaping entity? If you answered that question with any degree of thought that did not lead to a "no" answer, think a bit deeper. You may think, "....well electronic media isn't all that bad." Of course not, but think about the graphics above and add the Media Matters graphics below (from 2013 - 2014).
Cable news is the domain of the high-end baby boomer conservative white male. And "HE" is without a lock-step Republican inherent with all GOP Regressivism.
Top Ten Solo Interview Guests Are All Men, Only One Person Of Color.

The ten guests who received the most solo guest appearances on the Sunday;morning shows were all men (the list below includes 11 individuals because three guests tied with eight appearances each). Only one non-white guest, Senator Ted Cruz (R-TX), made the top ten.




Ideological Gap: Conservatives Outnumber Progressives On Broadcast Shows

White, Conservative Men Were the Largest Demographic Group On The Broadcast Sunday& Morning Shows. On the four broadcast shows, white, conservative men represented more than a quarter of all guests at 29 percent. White, progressive men represented close to half that amount at 15 percent. White, neutral men represented 23 percent. All other groups were in the single digits.

On Broadcast Shows, Republicans And Conservatives Hosted More Often Than Democrats And Progressives Overall. On three of the four broadcast shows, Republicans and conservatives were brought on as guests more often than Democrats and progressives: 49 percent of guests on Fox News Sunday were from the right while only 27 percent were from the left, 28 percent of guests on Face the Nation were from the right while 21 percent were from the left, and 37 percent of guests on Meet the Press were from the right while 34 percent were from the left.This Week was the only show to host guests on the right and left evenly at 31 percent for each.
The graphics clearly show the problem! We are being bombarded with conservative ideology via conservative friendly media. Despite the Right-wing false mantra of "liberal main-stream-media," the Sunday show bookings speak volumes about mind-altering political poison from people who have a bonsai commitment to policy that does not benefit middle America, veterans, minorities, nor the environment.
Thus, the cable network and national television network news directors, producers and editors offer powerful slant to our news. So powerful millions watch the parade of GOP dinosaurs and traipse to voting places and cast votes contrary to their own well being.
After the post-2012 100 page study report back to the RNC, ;Reince Priebus, RNC Chair made the following remarks captured my McClatchy.
"

The official Republican response to all this turmoil is to watch the mechanics. This bottom-up push began about began about two years ago, when

a 100-page post-2012 state of the party report

s

aid people in focus groups found the party "narrow minded" and full of "stuffy old men."
"Young voters are increasingly rolling their eyes at what the party represents, and many minorities wrongly think that Republicans do not like them or want them in the country," the report said. "When someone rolls their eyes at us, they are not likely to open their ears to us."
The Republicans (GOP/RNC et al) know they are not representative of major swaths across US voter demographics. US media knows the Grand Ol Party is not diverse, demographically representative, and media knows the party is regressive.
Yet, electronic media fully showcases conservative politicians Monday through Sunday with major doses on Sunday morning. News show programmers follow the script from network managers and producers with bookings that lead to
facilitation of
political ideology.
Thus, media is culpable in elections results that turn our nation over to politicians who are not truly representative of middle and lower income America.
US Cable and national news networks have become conduits to delivering the nation to those who long for the Land of Oz.
The Land of OZ (The OZ skyline, and a place of conservative happiness and glee...Ah such a beautiful place.
Few minorities, no LGBTs;
Just enough poor people for servant jobs;
Predator Drones have replaced chirping birds;
Thoughts of climate change are illegal, collective bargaining is non-existent;
Private schools proliferate, public schools are no longer funded;
Women do not dare think of an Equal Rights Amendment;
Minorities based solely on skin color have voter ID cards, whites do not have voter ID cards;
Women votes are counted one actual vote for every three women votes (the 1/3rd Rule) and women are only allowed to vote in mid-term elections;
Fair Pay for women is outlawed with violators forced to appear on the Limbaugh Show to plead for mercy;
Overtime Pay was stopped many years ago and employers are free to force 12 hour plus work days;
The national minimum wage is no longer a federal requirement;
Medicare and Medicaid are extinct entitlement programs;
Food Stamps is a by-gone thing of the past, Images of starving Americans are prohibited;
Corporate CEO is worshiped on Sundays, the President of the United States is subordinate to the nation's CEOs;
The Koch brothers and their heirs have final say on General Election outcomes;
Pat Buchanan is the Minister of Information and Cultural Preservation;
Sarah Palin is the Minister of Education Programs, Communications Curricula and Historical Studies;
Education programs include mandatory attendance in "why the nations new minority (whites) are granted s "Super Privilege" status;
Entitlement Programs have been banned w/the elderly as the wards of the core family;
The Keystone XL Pipeline is a national monument denoted by Canada (It no longer pumps filthy oil derivatives but cost too much to dismantle);
National media is a monolithic FOX NEWS; Fox News has officially been anointed FOXPEN (Fox Propaganda and Entertainment Network) and the GOP Land of Oz is a place where cognitive abilities are only exercised in gaining and preserving personal wealth...AHH such a wonderful place.
See more