"ObamaCare is a Job Killer!"
Prior to Ted Cruz's shutdown of the US government and a $24 billion hit to GDP, the false mantra "ObamaCare is a job killer" was as common as the National Anthem at Major League Baseball games.
Ted Cruz and a platform via Fox News
Cruz: Americans Ready to Derail Nation's Biggest Job Killer, ObamaCare
GRETA VAN SUSTEREN, FOX NEWS HOST: Senator Ted Cruz is here. He's leading the charge to defund ObamaCare at all costs, even if it triggers a government shutdown and alienates some fellow Republicans.
SEN. TED CRUZ, R-TEXAS: Now is the single best time we have to defund ObamaCare.(APPLAUSE)


CRUZ: ObamaCare is the number one job killer in America. It is killing jobs. It is causing more and more people not to be hired. It is causing health insurance premiums to skyrocket.


Read more linked above
Politifact
(former House Majority Leader)
On March 3, 2015, Dan Diamond, Forbes, published a fair and balanced piece regarding positioning of the Affordable Care Act (AKA ObamaCare). The central theme of the forbes piece is "job losses" or "job creation." while false GOP mantea regarding the "job killing bill" has fallen well shy of reality, the Nancy Pelosi position of job creation has become reality.
http://t.co/fI8Y5Xzcz3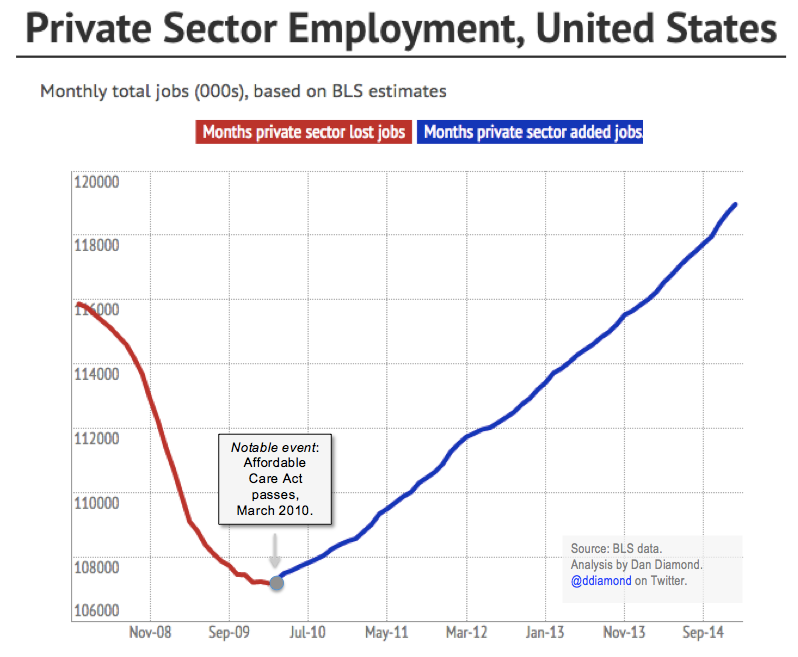 The GOP is not the party of old. well, I correct myself, it is the party of "old", but it is not a viable alternative to progressive government. When voters seek an alternative to Democrat ideology and policy, they cast votes for a party that has proven itself, economically inept, social deprived, regressive and a party far too subservient to constitute money-brokers vs. the middle class.
The Affordable Care Act offers yet another set of evidence of failed GOP ideology, policy and subsequent strategy. No only are the number of uninsured at an historic low health insurance premium rates have not "skyrocketed."