Media as culpable culprit!
I actually believe some media play to the curiosity and contempt from viewers regarding situations that are so remote to the viewer they cannot fathom life as such.
The current urban crisis in Baltimore, Maryland is the latest example of civil unrest from possible cop abuse by probably one cop (or a few cops) who via their acts have unleashed the dogs of urban lawlessness. The rioters in the streets of Baltimore are of the same psyche of those in Ferguson Missouri.
Yet another example of young people who are bent on destruction based in total hopelessness and a lack of short-term prospect for a better life. In fact, some don't want a better life and their acts are yet another manifestation of the soiled states of being.
Despite the existence of families fostering values and decency as a way of life, some of those who riot and throw bricks at cops, burn and loot are of a mindset we will never completely understand. Evidence of parents who aspire to more for their young is evident in the following now viral video of what seems a mother who recognized her son as a brick thrower.

ABC News Los Angeles
Don't disappoint momma! A suspected rioter in Baltimore gets the smackdown of his life - a beating from his own mom on live TV. abc7.la/1A9gqGd The mother saw her son on television throwing rocks at police. That's when she'd had enough, dishing up a dose of discipline he won't soon forget.
Posted by ABC7 on Monday, April 27, 2015
The teen may not forget the embarrassment of his mother physically intervening on his bad behavior, we should hope he has learned a life sustaining lesson.
On another hand, questions the true value of ratings seeking news segments that in many cases are not meant for the eye and ears of those in affect areas.
Mediaite has reported on CNN's complete avoidance of the developing story up and until the rioting started.
The linked piece relates how the network focused on the Saturday evening "elitist frivolity" at the White House Correspondent's Dinner, as peaceful protest ensued in Baltimore. Unfortunately peaceful protests often have a nasty following, civil unrest commonly referred to as riots.
If you did not read the linked Mediaite piece, I offer a few
excerpts Twitter posts.
On Saturday CNN broadcasts a dinner party instead of covering

#

Baltimore

. Two days later, it declares "the city is on fire."

#

responsibility
The last tweet is endemic of a network that dispatches cameras and entertainers to the streets for reality show shots and video. A case should be made about the real value of producers and entertainers who seek the worse of the strife for mouth - watering shots, while in studio talking heads deplore for sake of ratings. The following illustrates the extent to which one CNN (well known) provocateur rushed to the area (once the civil unrest ensued) for glitzy shots.
Don Lemon's camera shots audience didn't seem to care for his reporting.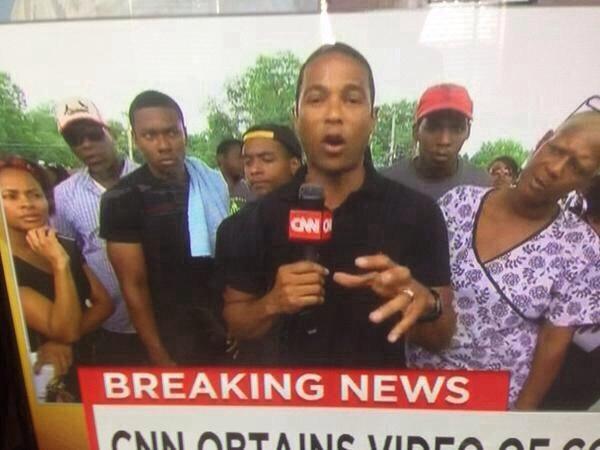 Mediaite
Late Monday evening, CNN's Don Lemon arrived in Baltimore and questioned the city's mayor Stephanie Rawlings-Blake and Maryland Gov.Larry Hogan. How'd it go? Well, let's just say he repeatedly provoked the two over their respective responses to ongoing riots in the city, and eventually the frustrated pair just walked away.
Lemon grilled the mayor and the governor for about 11 minutes, asking them why their law enforcement response has been seemingly slow and clumsy. The CNN reporter also attempted to drive a wedge between the two, repeatedly asking why the governor did not activate the state's National Guard earlier — a move which relies solely on a request from the city's mayor, who did not do so until Monday afternoon.
As the conversation dragged on, it became clear that both the mayor and governor were annoyed with the line of questioning. When Lemon asked how they intend to enforce a curfew while also shutting down schools (meaning more young people on the streets), Hogan and Rawlings-Blake turned away from Lemon and removed their microphones, unceremoniously ending the interview.
After they'd departed, Lemon described them as "touchy."
The focus of this piece has been on CNN for a reason. The former news networks seems to have become an excitement seeking organization with clear ratings intent. Why no specific criticism of Fox News and MS
NBC?
MSNBC has expended air-time on both the strife (from day one of the killing of Mr. Gray), and its possible causes. Well, let's say the network at least asks the question, why? Fox News coverage? From what I hear on social media Fox is focusing on the ugliness of looters and some Fox News entertainers are following their managements scripts of Obama Derangement.
CNN once advertised News neutrality." What point neutrality if many segments are delivered in a salacious and non-productive manner? Do we really need Wolf Blizter steely-eyeing through a set of comments decrying the need for more troops the streets.
While discussion points for a related piece, we stand in stark criticism of local officials and they all to quick willingness to label criminal activity as "thuggery."
A bit of dessert for those who simply do not see the horrors behind social conditions that lead to civil unrest. he dessert is a simply reminder of how you might call young white "rioters; a far different animal than "thug."