Watch three minutes of the most casual arrest in US history. A critical factor in the arrest is the fact the car being pulled over was reported to be the killer of nine African-Americans in a church prayer meeting. A meeting in which the killer sat and parook for an hour before summarily executing the nine worshippers.
Apparently, a concerned citizen spotted, reported (to 911) and followed the killer (alleged?) for over 90 minutes.
The end of watch can't even be called a cop and suspect chase;

5:48 minutes

and will open in separate window.
Let's run through a few particulars of what has to have been the softest arrest of a murderer in US History.
It appears before opening the killer's car door at least one cop holstered his weapon.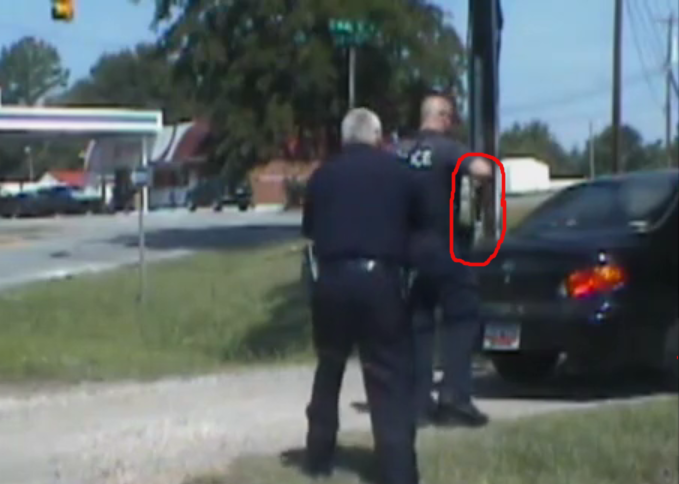 While not in North Carolina, take a moment to review the first minute of a video from the arrest takedown of an

unarmed Michigan resident

. One of the many arrests that involved extreme violence and in some cases death of the unarmed (or lightly armed). Contrast the arrest of Dylann Roof with the following video in the Great State of South Carolina: (graphic)

linked

. We also offer an example of cop killing a mentally imbalanced white citizen in New Mexico, for sake of fairness and to ward-off the many conservative trolls who lurk and seek opportunity to disagree with the disproportionate number of black killed by cop:

lightly armed and mentally imbalanced

.
Dylann Storm Roof received special consideration and cushion soft handling for an assailant who killed nine Americans. Yet, the special handling did not end at his arrest.
Talking Points Memo
and the social media are reporting the killer received a burger King arrest.
"Used with permission from the TPM websites, a service of TPM Media LLC."

Police in Shelby, North Carolina bought a Burger King meal for the white man who allegedly killed nine people at a historic black church in Charleston, South Carolina after they arrested him Thursday, The Charlotte Observer reported.

Shelby Police Chief Jeff Ledford told the newspaper that the only conversation his officers had with 21-year-old Dylann Roof was about food. The alleged gunman told them that he was hungry after eating nothing but some chips he'd bought at a Charlotte gas station before he wasarrested in a traffic stop.
"He was very quiet, very calm. He didn't talk," Ledford said, as quoted by The Observer. "He sat down here very quietly. He was not problematic."
Ledford also confirmed to Yahoo! News that police officers bought a hamburger for their infamous detainee.
"He did have something to eat while he was there, and he was secured in cuffs the entire time," he told the news site.
Read more linked above
Despite your politics or your social paradigm, the disparate treatment of people placed under arrest seems very much influenced by race or social economic status.