Since the removal of the Confederate battle flag from the South Carolina capitol grounds, local chapters of the KKK (white supremacist, Nazis, et al) threatened to conduct a protest event at the capitol building. The event took place yesterday (July 18, 2015). As we move forward with MIC Dot Com piece, it is critical to remain mindful of those who have railed about their rights being violated via removal of the flag.
"It is a more moniker of southern pride."
CNN among other media have run broadcast segments with data indicating a specific majority of survey respondents feel the flag is a simply moniker.
CNN: CNN/ORC poll: 57% see Confederate flag as Southern pride

http://cnn.it/1FUzklz
Since my position of surveys evolves around the need to review survey methodology (demographic data etc) before assimilating the data as fact, I approach the results with a degree of reticence. However, and nonetheless, the data is as it reads and we will move forward accordingly.
You might want to check your paradigm, if you actually believe the Confederate Battle Flag is a simply innocuous moniker for people in the south or self-moniker-ed "rebels" (motorcycle gangs, rock bands, callous high school or college students), the event in South Carolina should have shaken your paradigm. If Dylann Roof's pre-murder of the Charleston Nine wasn't enough for you, think about yesterday.
The Confederate Flag was front and center along with Nazi Swastika Flags at the South Carolina Capital building steps. While most Libertarians ;would rail about the "liberty" and first amendment right to the flag as a protest item, I suggest said libertarians are practicing conservative speak. In this case, conservative speak is let us do what we want and damn your perceptions. We are white people with conferred (birth right) privileges.
The MIC Dot Com piece is accompanied by the title "Gut-Wrenching" photos. We offer one now famous image that did not make the MIC piece, but seems to embody the essence of group dynamics associated with white supremacy.
Yes, one racist did holdup very well when confronted in close proximity without the comforting surroundings of his fellow racist.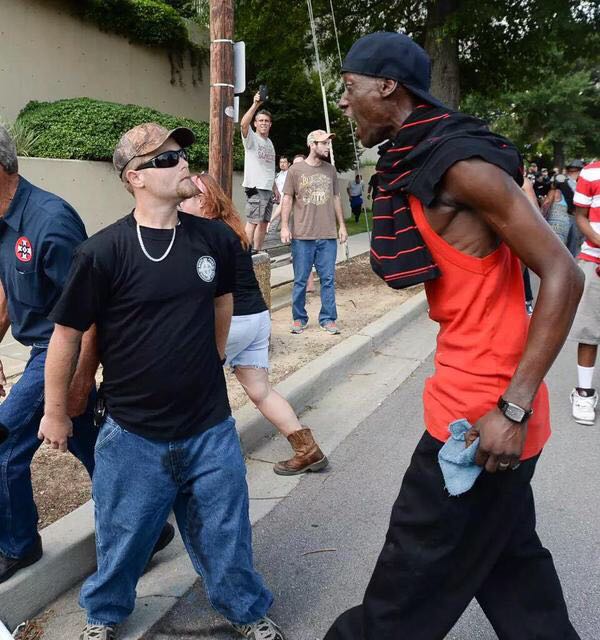 MIC DOT COM