Non-Progressive News

...
Louisiana Killings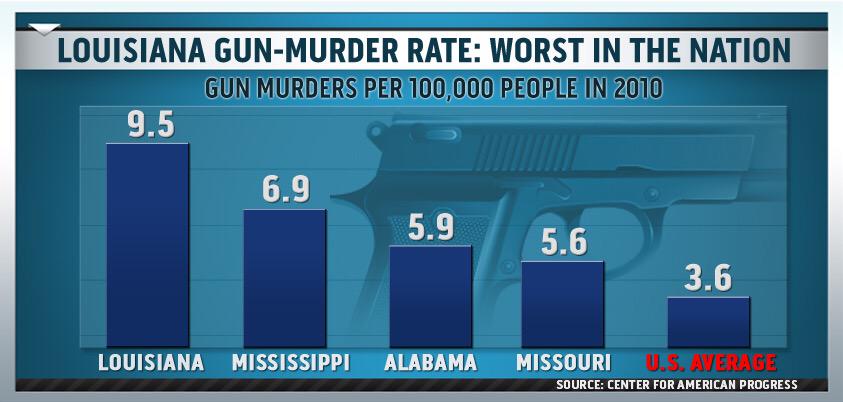 And, Louisiana Governor Jindal stood on camera bemoaning the tragic death of two young women at the twisted mind and hands of a fellow conservative as if gun deaths in his state is a one-off reality.
TRUMP'D
NRA
When have you last heard or read about an assault weapons ban? What about the last time your heard or read about a lunatic summarily killing innocent unarmed people with a semiautomatic weapon or a killing via a assault rifle? Recent correct? Whether or not legally purchased, you have recent experience with both weapons. Our experience with such killings seem to proliferate and expand exponentially.
MediaMatters offers a piece with the NRA's

web series

Noir. The gun manufacturer sponsored web series and its
outreach to millennials and African-Americans is hosted by
Colion Noir.
Yes, the series has a Fox News model with (at tiems) ample shots (words chosen carefully) of Noir's co host.
We know the mission of the NRA: facilitate weapons sells and stifle legislation that would negatively influence weapon sales. Business is business and the organization will fulfill tis mission open way or another. Yet, use of US Jim Crow as an analogy to a phantom assault weapons ban is crass, insensitive and a utter insult to African-Americans and any American who abhors the nation's history of racism and oppression.
Noir and Jim Crow via Media Matters...
Blog

››› ››› TIMOTHY JOHNSON
The National Rifle Association debuted the third season of its web series

Noir

with the claim that singling out assault weapons for bans is a "form of tactical Jim Crow-style segregation."
Launched in 2014,

Noir

is the flagship program in the the NRA's "Freestyle" network, a digital platform that seeks to attract a younger audience to replace

the NRA's aging demographic

. The show is hosted by Colion Noir, a popular gun blogger turned NRA News commentator, and is sponsored by gun manufacturer Mossberg.
During

the show's July 22 season debut

, Noir warned about the prospect of a future assault weapons ban following a high-profile shooting, and claimed that selecting which guns fall within a ban is a "form of tactical Jim Crow-style segregation -- where if you don't shoot that kind of gun, you don't care what happens to it -- that will cause us to all lose our rights."
"Ironically, most guns are separate but pretty equal," Noir added.
We also continue with our flummoxed state regarding conservative America continues flaunting our shameful past as a component of avoidance strategy. Conservative America is in no embraces Civil Rights, and I question its commitment to human rights (LGBT,unmarried women, the poor etc.). In fact, we find many conservatives care less about current manifestation of social oppression than they care about the nation's first African-American President. Yet, they accept imagery (physical and subliminal) of institutions that thrived off the psyches and paradigms of people may who support such oppression and oppressive institutions.
Is outreach into communities that historically failed to support the NRA and did not support rampant weapon proliferation so important shows hosts like Noir actually derive benefit for the NRA? Is Noir's audience so socially deprived and intellectually shielded from the horrific blanket of Jim Crow they accept the analogy? Regardless of any answers that may have assuaged the matter, use of Jim Crow, and equally prevalent use of slavery as analogies speaks to the lowest levels of manipulation.
Cruz Attacks McConnell
"Flat-Out Lied"
When politics causes fights among bedfellows, politics becomes more a joke and actually becomes humorous. It seems the political Right is racking under the influence of strategy towards the 2016 primaries.
Senator Ted Cruz Shreds Senator Mitch McConnell on Senate Floor: "Flat-Out Lied," No Better Than Senator Harry Reid

Posted by Mediaite on

Friday, July 24, 2015
Humor ensues!
Will racial profiling come to roost on Arizona's super racist Sheriff?
We do not have deep faith the Feds will take action against the nations number of racist cop, but we find a degree of solace in the investigation. There are times when a serious legal fright modifies behavior.
Arpaio II Jurassic Era Birther (racist)
Even after President Obama acquiesced to US racism and revealed his birth certificate, some continue the shameful quest of aversion to our African-American President.
Arpaio would do much better for himself if he adorned the customary attire of the US ultra racist:
Editor's Choice