Fox News Anti-Immigrant ratings net
Fox News' most prolific situation demagogue regarding immigration. As your review the hot link below recall Kelly for her "

White Santa; white Jesus

" and her

Pepper Spray rationalization with Bill O'Reilly

.
Fox News should come under review from the FCC for improper licencing as a news network.
California Drought due to Obama?
Some people asked if Boehner was drunk when he laid the California drought squarely at the feet of President Obama. It is so obvious the GOP takes its marching orders, its direction and its "political speak" from its major constituency: uber Wealthy oligarchs who employ operatives to feed the lock-step GOP.
Maybe he should just cry all over the state of California and end the drought.
Posted by If You Only News on

Saturday, July 18, 2015
South Carolina White Supremacist Stage Nazi/KKK Event
The racist in fhe camouflage pants was very active in the protest
If you are a person who actually believes the rhetoric about the Confederate flag as a symbol of southern pride (only), you are the gullible or you are hiding your racism. The South Carolina state capitol has again proven it is the place for over-the-top exhibitions of racism and white privilege.
ABC News
White supremacists with Confederate flags chant "white power" and display Nazi salutes at the South Carolina Statehouse on Saturday.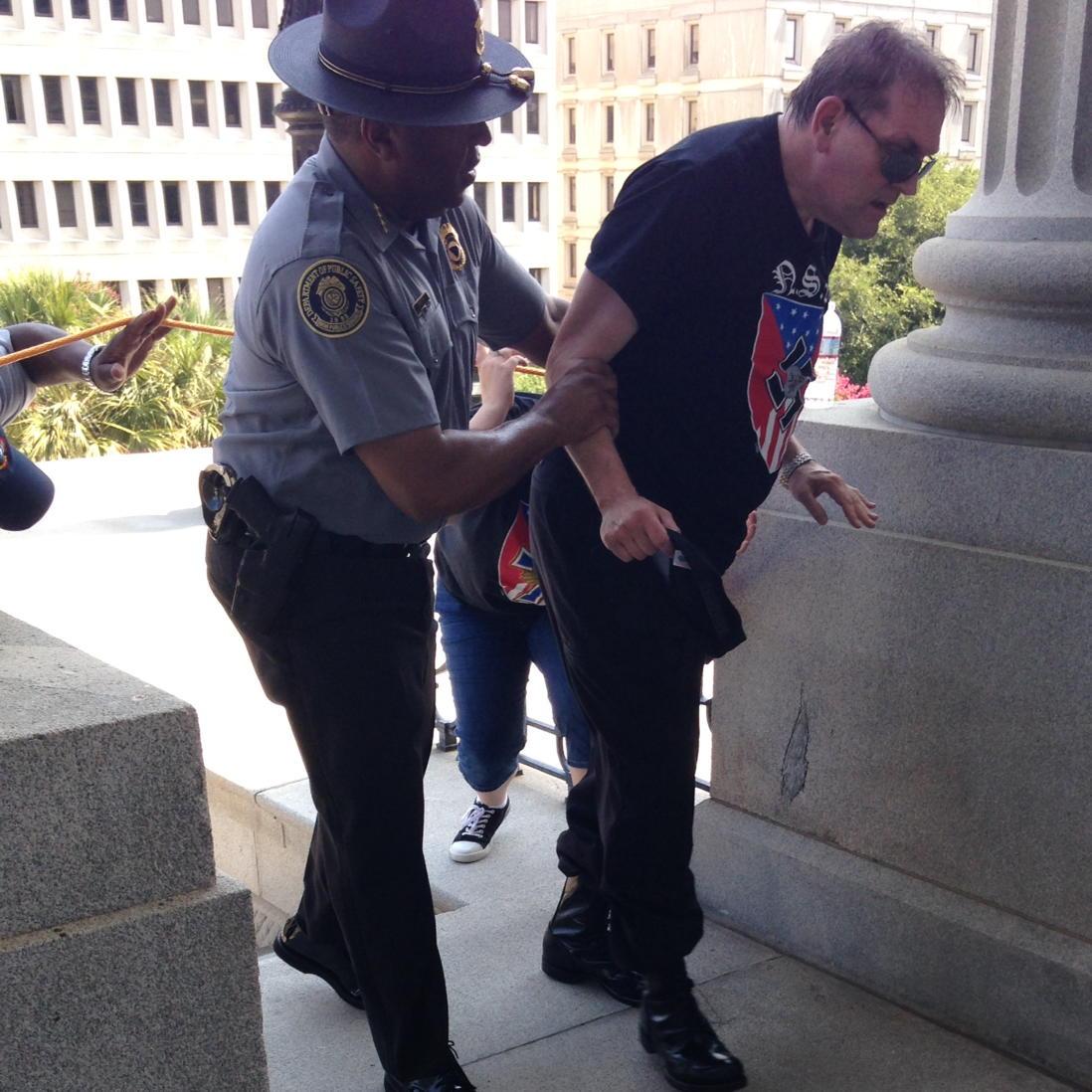 not an uncommon example of humanity in SC: Leroy Smith helps white supremacist to shelter & water as heat bears down

.
Southern pride? Really?
When you cast your GOP votes in 2016, know you have this army as an ally. Also know that "ism' exist in bundles. Do you think these people are high on human rights, women rights, LGBT rights?
Planned Parenthood (The Video)
The popular Planned Parenthood 'doctored" video developed by a noted Planned Parenthood hater is making the Internet rounds. While conservative social media are running with the doctored project like a Dick Cheney or Sarah Palin camera appearance, progressive and other credible media are dissecting the project and responding accordingly. Most important the President of Planned Parenthood has gone public with an

apology

for the tone of the local facility manager who was duped by the video operative. She has also commented the video is not a true representation of its mission and operations model.
Politifact has also

run an analysis

of the conversation via its Truth-O-Meter team. Apparently, Planned Parenthood sells some tissues, but selling for a profit as the video indicates is false. But, there are political party leaders who have profited from abortion services.
You may or may not recall as Mitt Romney approach his solid defeat by the Obama Team word got out the real profiteer from Planned Parenthood's abortions services was a company paid to take fetuses from Planned Parenthood facilities.
Mitt Romney invested in Stericycle, a massive medical waste disposal service company that disposes medical waste from Planned Parenthood and abortion clinics — waste that includes aborted fetuses — and attracts the ire of the pro-life community and establishment Republicans. The company received a $75 million investment from Bain Capital in 1999 which led to its emergence as a leader in the industry. Today, Stericylce has more than 485,000 customers worldwide. Its clients include hospitals, blood banks, and pharmaceutical manufacturer
SEC documents prove Mitt Romney invested in medical waste company that disposes aborted fetus from Planned Parenthood clinics.
By now we are certain the millions from Stericycle have been neatly folded into Romney's offshore (tax dodge) accounts, and the investment relationship has probably been severed. Point is, the Right should research and explore much more diligently to avoid revelations they would probably prefer to remain closeted.
Right-wing Pranks which are really not pranks
As we move away from the white supremacist/KKK event this past weekend, let's remain mindful of those who foster racial hatred and proudly display the Confederate Flag as a badge, icon or moniker.
As you view the follow Facebook post notice the well known Right-wing demagogue feeds his minions view the flag and insane posts. I use the word insane in the context of people who are informed and who take such demagoguery for what it is worth: nothing. Unless, you are one who is so information deprived you consider Kincannnon a credible source of information.
Checkout the following post graphic. Do you see the level of insanity?
I think we can set the Facebook post aside as insane. Also if you did not visit Kincannon's Facebook link, here is yet another example of how he feeds his minions.
Veterans
Your GOP and care for our Veterans
REMINDER: If you think Trump attacking McCain is bad, GOP sent 1M vets to Iraq then cut their benefits in 2012 & 2014 pic.twitter.com/fLwBfhma26



Arms on military bases stopped by Clinton? Think again! (Snopes)
Arms on military bases?
Claim:
President Bill Clinton issued an executive order disarming soldiers on military bases.
Editor's Pick
Andrea Mitchell hardly the progressive news personalty on the GOP and their nascent Frankenstein Monster Trump:
"[The GOP] did not stand up against him when he talked so abusively about President Obama," Mitchell said. "Republicans candidates did not, collectively, did not stand up when he talked about Mexico and immigrants with such racial rhetoric. It was only when he attacked John McCain that the group [turned on him]."
Video