We continue to hear and see Republicans lead the false rhetoric of President Obama as a failed leader.
Thirteen Million jobs created in longest stretch of private sector jobs growth in history!
Sixty-five straight months

of private sector job growth. An unemployment rate at its lowest since April 2008. It is important to highlight the unemployment hasn't come-in at 53% since five months before the Bush

financial collapse which lead to the Bush

Great Recession

.
July Jobs Report Unemployment.cnnmoney/
In fairness, the great July Job Numbers has a shadow.
Wage growth continued its chugging along in July.
Average hourly earnings rose at 2.1%; markedly shy of the Federal Reserve desired rate of 3.5 percent.
Fox News of course, reported the 215,000 July Job numbers with a subliminal graphic. Notice the red arrow emblazoned in the background behind the job numbers.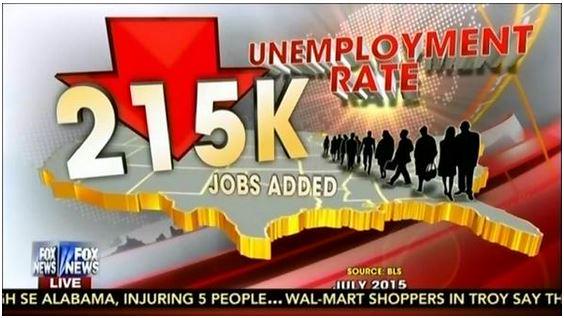 Encore economic numbers
Getty images