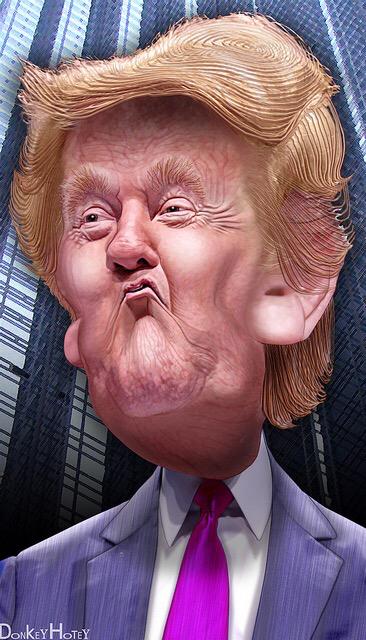 If you want to see and hear a carnival barker avoid an answer regarding his nascent declarations of the Bible as his 'first favorite' book, watch the following one and a half minute clip from MSNBC's ALL IN. Trump's 'second favorite' book is of course, his latest on the shelf book. What you are about see and hear is an example what happens when media acts as true journalist via asking questions that dig below the rhetoric.
Trump sat with Mark Helperin and John Heilemann on Bloomberg News. Trumps answers to a very basic questions about his recent bantering of the Bible reminds of Sarah Palin's responses to 2008 Katie Couric when asked what

her reading preferences

.
http://on.msnbc.com/1NYYrKc
As is frequently the case with right-wing carnival barkers they manage to find safe-haven softball interviews that provide platforms to shore-up their connection with sycophants who worship them as celebrities.
Where would the exposed Trump run for a full on-camera interview VS his more common secluded phone call-in settings. The following is an except transcript of a portion of the Palin/Trump Ice cream segment. Notice the verbiage choice from the show host; and think about how there are those among us who eat-up every word from Palin. Palin referenced Trump's unbelievable stifling of questions from a noted Latino journalist, Jorge Ramos-Fusion and Univision.
Before we move to an except from the interview, we offer a reminder of the Ramos/Trump interaction.
Donald Trump has decided to pick a fight with another journalist. This time, it's Jorge Ramos, the most famous Latino anchor in the U.S.

Posted by AJ+ on Wednesday, August 26, 2015



"You schooled that radical activist," she said. "And it was the right thing to do, 'cause I don't think he's gonna pull that again. Where'd you get your guts for that kind of necessary confrontation?"
"The press was very good to me on that one," Trump said. "He was totally out of line. He was screaming and ranting and raving. And I actually said, 'Who is this guy?' Then I actually figured it out."
Neither of them mentioned that the "gotcha" moment happened in connection to Trump's

repeated declaration

that the Bible is his favorite book of all time.

CNN reported on Friday

that Marble Collegiate Church, where Trump said he attends services, does not consider him to be an active member.




Palin also failed to mention

a CNN report from earlier this year

stating that Clinton, a self-identified Methodist, willingly recited Corinthians 13 during a meeting with a pastor in Columbia, South Carolina.
What follows is a video clip of the interview. As with the Bloomberg interview (above) watch the video at your own risk. We do not accept responsibility for your state of mind or psyche 'hit' at the end of the video.
Side Bar.....
Another unavoidable quick hit regrading Trumps campaign run His obvious chose of strategy to win the GOP nomination is China; a country in which Trump has contracted manufacture of a line of neckties.
https://youtu.be/SYoOPgeTMQc
.....AND THE BAND PLAYS ON....