Today is the day of the FOX News GOP Presidential Debate. Life as we know it has found a conservative communication department (AKA Fox News) that literally took the insane number of GOP hopefuls and channeled the Americans conservatives to one who would be king.
Wouldn't you know, Fox is throwing a panel of hosts at the quorum that is indicative of its business model and its mission goals: pave the way for US conservatism no matter the level of zaniness and Paleozoic ideology. Fox has delivered with an "A Team debate and a B Team debate.
On such a joyous day, we will shorten the Gazette with deference to
political watch-dog activity, time is short and development effort is short based on extra-curricula activities. Thus, The Morning Gazette is absent our normal narrative and comment.
How about Fox News's decision to throw this host at tonight Roger Ailes Debate forum.


7 Disturbing Megyn Kelly Moments On Race
You may have noticed when Kelly goes into her deep "racial charges" See reads form notes. If you think her comments are not carefully scripted by Fox News 'handlers', you are either a Fox news minion or you are socially naive. Of course, she appears to have perpetrated "Santa is white; Jesus is white" without scripting.
Ted Cruz combats Trump-ism with a childish and insane advertisement replete with a fully automatic weapon. Can you recall a time in modern US history a presidential aspirant brandished a weapon to garner attention of a voting bloc?
Remember, Fox News and the GOP is giving people what they want. From uber wealthy oligarchs to the chronic poor in Appalachia, Cruz's antics appeals to a constituency. And, that is a pathetic state of mind.
Before we leave the matter of weapons and as we reflect on US killings via the gun, it should be noted 90% of a survey respondent group indicated a strong desire for pre-gun purchase background checks.
Trump-ism
T

ime to visit the Trump Carnival and increasing evidence of an inner core of racism and intolerance for non-white Americans.
The king and his court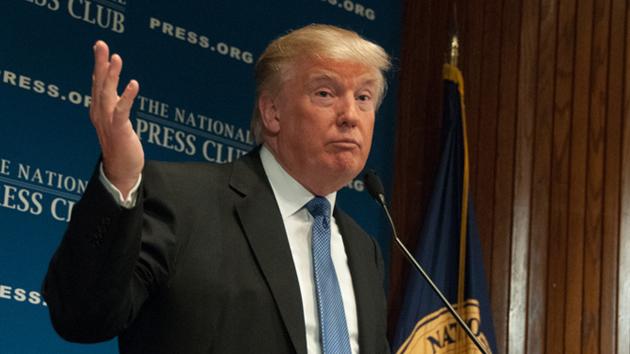 This is completely disgusting.
— The Progressive Mind (@Libertea2012) August 5, 2015
The dispute over Borders comes only days after the campaign fired adviser Sam Nunberg after Business Insider discovered a number of old racist posts on his Facebook acco

u

nt.
"you're fired!"
Trump adviser actually posted a image of Obama and Dems as Nazis.
He also suggests that President Obama wasn't born in the U.S. And that we're under threat of Sharia law.


Posted by Talking Points Memo on

Wednesday, August 5, 2015
There is something strikingly un-presidential about Trump's judgment if these are the characters who could find jobs in the White House. Even if you are a seething white nationalist or white supremacy or simply one who relishes your white privilege, you should have deep concerns about judgment as it relates to manifest Trump-ism.

Rand Paul
If you read here often you know our thoughts on Rand Paul:
Unscrupulous, plagiarizer, espouses use of mis-information, a political Chameleon and one who wears a racially is color regarding civil rights (rights of access and service vs business owner preferences).


Americans who follow US politics know of the conservative political operative Jesse Benton.
Since we do not pull punches at the TPI, I will state the following Ron Paul's background includes more than moderate doses of white supremacy. Paul and his close consultants authored the most racist 1990s newsletter ever published throughout the scope of US history. We think it probable Benton is a major undesirable if a candidate wished to administer a 'clean' campaign representative of her or his desire to lead a nation with a diverse population. Not Rand Paul and his shady aura.
Rand Paul Aide Indicted on Charges of Hiding Payments

New York Times
Planned Parenthood
The following embed needs no introductory remarks.
There is no equivalence on this. Fact-checkers, media outlets, and state investigations have all concluded the videos are deceptive.
Democratic Pundit calls out the GOP. For us to post; for you to read.
Including Dr. Ben Carson and Carly Fiorina?
When a conservative speaks Palin as 10X smarter than President Obama two things have transpired. First, the writer obliviously wished to leverage Fox News like anti-Obama insanity. The second point relates to the cognitive capacities of the author's readers. If a person exist on our Earth who believe Sarah Palin has mental abilities that approach es the cognitive gifts of President Obama, the person doesn't posses sufficient thought processes to insult against Fox News like propaganda.
Right media and Right-wing social media are an indication of dangers inherent in America conservatism.

Are there actually conservatives among us who subscribe to the talk of the Confederate Flag as a simple and innocuous moniker of southern heritage?

Editor's Choice (S)


Since the minimum wage was signed into law by FDR in 1938, every single president, Democrat and Republican, has raised it during his time in the office with the exception of Reagan, who explicitly chose not to raise it. Yet, under Pres. Obama, all efforts to raise the minimum wage have been blocked by the Republican Party. We're now going on nearly a DECADE without a raise. How did a once-routine task of Congress suddenly become an impossibility under Pres. Obama?
Texas Governor Abbott is continuing to yap about rampant voter fraud in his state and nationally. GOP strategy is like an movie set facade, you see what they (the GOP) wants you to see.
AoL on yesterday's court decision regarding voter suppression measures lanced by the State of Texas after last year's Supreme Court decision.