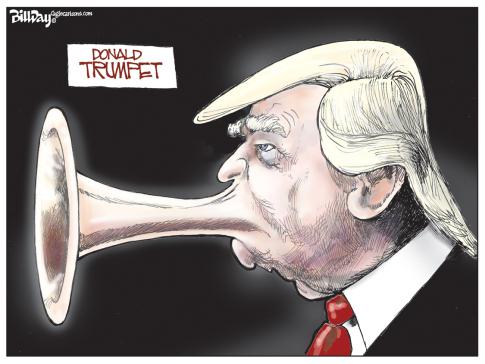 Our thanks to Bill Day for one of the most descriptive depictions of the GOP nomination leader we have seen to date.
"Used with permission from the TPM websites, a service of TPM Media LLC."
D
onald Trump Pulls Out Of Heritage Presidential Forum
Image via Wiki Commons (H/T Greg Skidmore)
According to statement from the Trump campaign, the deal was expected to close on Thursday:
Mr. Trump has a significant business transaction that was expected to close Thursday. Due to the delay he is unable to attend today's Heritage Action Presidential Forum. He sends his regrets and looks forward to being with the great people of South Carolina

on Wednesday in Columbia.
If you believe for one second Trump has pulled out of a critical Heritage Foundation event to tend to "major business" issues you may have also believed he dispatched team of investigators to Hawaii investigate President Obama's birth certificate.
And, there-in lies the escapism of the GOP carnival barker. He has railed himself into a 'pickle' with one or two of his circus tent exhibits running a muck and on camera.