The day after House Oversight committee Chair, Jason Chaffetz (R-UT), exposed his committee as a fraud and laid his character and values before the world, he appeared on CNN with Wolf Blitzer. The day before Chaffetz ensnared himself in his own 'spider web' via posting a chart to make his point and then lying about the source of the data from which the chart was constructed. His chart tripped him-up as follows.
Take a moment to watch a 1:38 minute segment regarding Chaffetz's "gotcha " chart and how it was presented at the hearing.
http://on.msnbc.com/1VlkW3w
It seem a 'clean-up' segment on CNN was in order. Watch and read as Chaffetz, head in hand, angrily worked through a 14 plus minute interview.
"Used with permission from the TPM websites, a service of TPM Media LLC."
GOP Chair Defends Using Chart

From Anti-Abortion Group At Hearing (VIDEO)

CNN host Wolf Blitzer on Wednesday quizzed House Oversight Committee Chairman Jason Chaffetz (R-UT) on the lengthy Planned Parenthood hearing he conducted on Wednesday.
Blitzer first asked Chaffetz about a chart from anti-abortion group Americans United For Life that the congressman used during the hearing. The chart reflects the number of abortions and cancer screenings provided by Planned Parenthood between 2006 and 2013. But the lines on the chart make it seem like the organization performs more abortions than cancer screening if one cannot see the numbers.
Chaffetz said he did not believe the chart was misleading.
"I stand by the numbers. I can understand where people would say the arrows went different directions, but the numbers are accurate. And that's what we were trying to portray," he told Blitzer.
The CNN host also asked why Chaffetz did not ask the anti-abortion group that released a series of sting videos targeting Planned Parenthood to testify at the hearing. The congressman said he did not want to interview the group until he had seen all of the footage they used for the videos.




When Blitzer asked why Chaffetz had Planned Parenthood President Cecile Richards testify before the committee could review the videos, Chaffetz said, "Because it wasn't a hearing about the videos. The hearing was about the funding of Planned Parenthood."
Later, Blitzer said that about 75 percent of federal funding for Planned Parenthood is Medicaid reimbursements, prompting Chaffetz to tear into Planned Parenthood and the organization's expenditures.
"You make it sound so sweet, but there are a lot of other things that they are doing with those: shared employees, shared assets, shared email lists that are engaged in these political activities," he said. "They're so flush with cash, they spent tens of millions of dollars over the course of years sending it overseas. When they're buying first class air travel and chartering aircraft … it doesn't really sound like all that money's really going to help that poor young woman who's looking for a little health care."
One last point. I believe I read above, Chaffetz does not feel the chart is misleading. A chart is a tool for viewing and assimilation of relationship data. In order for a chart to work in delivering its intended purpose it must be viewed after proper construction. Any "line chart developed with proper "X' and "Y" Axis with legends to facilitate viewer delineation and assimilation.
One last look at the chart Chaffetz and his staff deployed as a hearing "gotcha.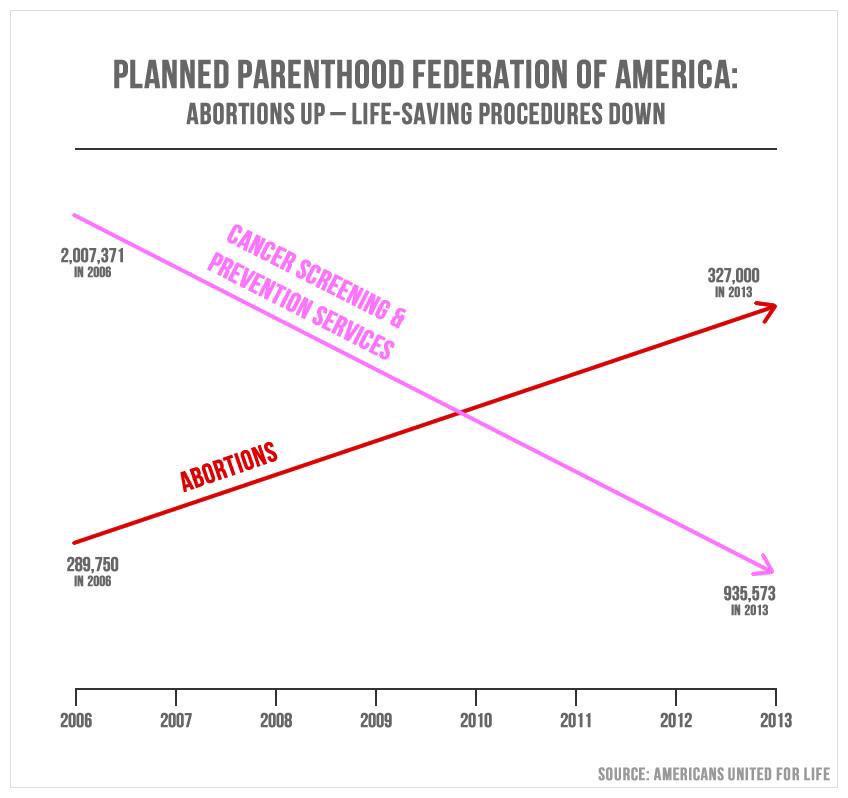 Sadly, we find millions who may view the chart and walk away salted with conservative misinformation.
While a totally different type chart with a totally different set of data depiction, the item you are about to view stands right along with Chaffetz's flawed chart.
Why do conservatives so often use misrepresentations of data to promulgate their deceitful antics?