Passengers on the refugee ship MS St. Louis disembark at Antwerp, Belgium
after being denied entry into Cuba.
Steve Jobs, Apple, Inc., never actually knew his father. A father who was a Syrian refugee. Imagine, the impact on our world had Job's father not made ti out of Syria many years earlier.
Images with a purpose.....
As we watch the nation succumb to Daseh (ISI), we feel it important to report and archive for future reference. We find it shameful the reaction to the terrorist group's vile acts and propaganda video. The very legislators and "concerned" citizens are noticeably quieter as the United States is showing increasing homegrown terrorism...who happen to be white men.
We have posted below a series of items related a developing national reaction to the world's number one terror group. We are reacting as that terrorist want us to react. Amazingly, those who are most fear reactive to ISIS are reacting just as the terror group wishes. In simpler terms, we are running around like chickens in a hail-storm with marionette handlers throwing (fake) hail thus influencing our psyches.
Federal legislators are leading the fear wagon, but not one elected official can serve as a conduit to national fear without the universal symphony of fear and loathing from US media. Specifically, broadcast on cable media (and cable media corporate affiliates). While the more common purveyor of right-wing dogma is Fox News, CNN has leaped to the pinnacle of national hysteria. Watching Wolf Blitzer these days is like waiting for the next blast from those universal and ever-present megaphones in the movie Soylent Green. While, MSNBC is the only network that seems to offer on-camera interviews with so-called experts who are reticent to "troops on the ground" in the Middle East, it also has its share of hail storm broadcasts. All said, there are few efforts at inciting fear than a recent Washington, DC Fox News affiliate host who took to Twitter.
Before visiting a Media Matters piece on the firebrand reporter/host, let's take a quick peep at her Twitter page.
Either Ms. Miller is auditioning for a job at the Fox News flagship operation, or she has serious issues with false bravado. The penultimate point regarding what you just observed is: how would you like to have your news delivered by such a character? If you have no answer for the question, move to the MediaMatters piece.
King may have fallen victim to stereotypical law enforcement. Many of us know that tendency all too well. The following is a clear case of Fox News mania coupled with unfettered machismo. Imagine holding a job in which it was safe to maintain a twitter page as such?
Media Matters
Emily Miller, the chief investigative reporter for Washington, D.C.'s Fox 5 (WTTG), sparked unnecessary concerns about danger in the Washington, D.C. area on November 18 when she publicized an internal police document about the Metro Transit Police Department (MTPD) seeking information on four men who appear to be Middle Eastern engaged in "suspicious activity" on D.C.'s rapid transit system.
But according to the Metro Transit Police, the "routine" document was not intended to be released to the public, and by the time Miller tweeted it to her 50,000 followers, the alert had already been resolved. MTPD says Miller did not contact the department before releasing the information.

Miller

tweeted

out a "BOLO" (Be On The Lookout) notice on Twitter the night of November 18 about four people sought for questioning since Sunday:
After her initial tweet, Miller

responded

to someone asking where the alert came from by saying the document is "an internal metro #BOLO that I got from a source who thinks it should be public."
This is scary: Be On The Lookout alert for these men on DC metro at Pentagon. Note it was a warm on Sunday.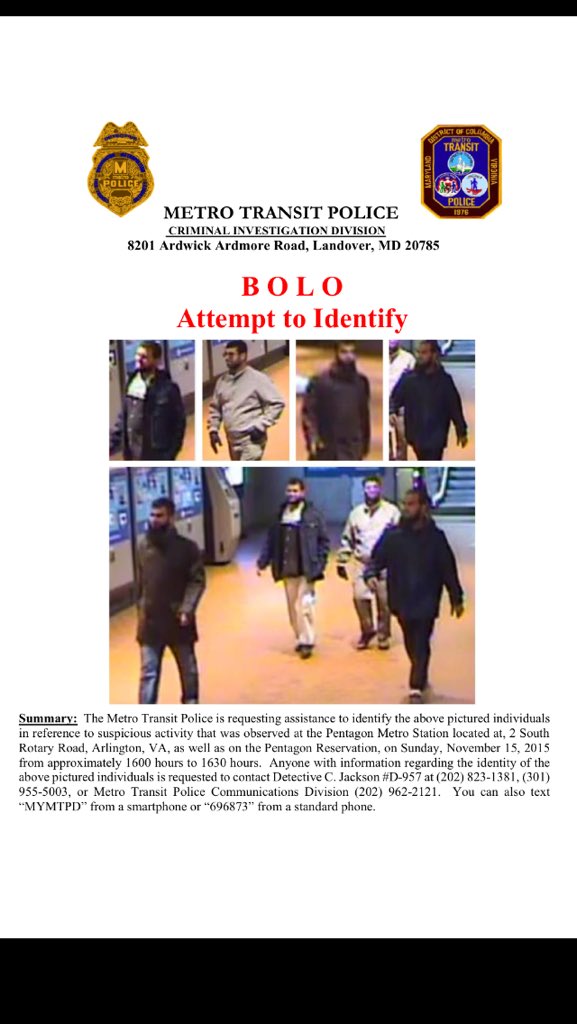 Miller's tweet quickly gained attention, garnering more than one thousand retweets and articles on Glenn Beck's news site, The Blaze, conspiracy website InfoWars, the website of conservative blogger Jim Hoft, and the Daily Mail. Several Twitter users responded to the image by raising fears about an Islamist terror attack in D.C. and making derogatory comments about Syrian refugees.
If Ms. Miller's racism isn't enough to induce unintentional regurgitation, follow a few of the links below.
ABC's

Karl confronts ted cruz over refugee crisis stance no muslims only christians
"So you're saying no Muslims, only Christians? I'm asking your position here," asked ABC's John Karl.










And most common form of terrorism continually ignored 3 Virginia white men arrested for Black churches bombing plot

pic.twitter.com/RSKL5nkryq