The RNC is noticeably quiet about Trumps bigoted and racist demagoguery.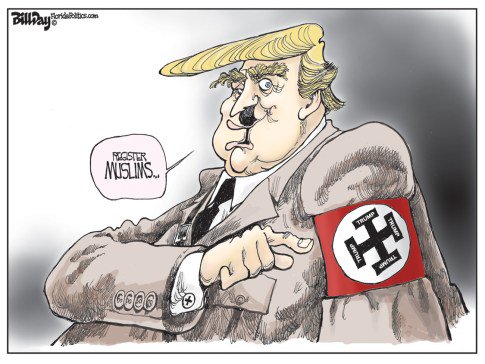 Notice Trump and his campaign (and Super Pac) talking heads and the words "these people."
The Hill

and other media are reporting on a Trump weekend Tweet. It seems that childish Tweeter freak candidate must live on 'dark' right-wing twitter pages. Check out his latest Joseph Goebbels like propaganda.
A drawing of a black man wielding a sideways pistol and wearing army pants, military boots and a bandana and mask accompanies the statistics, which are sourced to the "Crime Statistics Bureau" in San Francisco.
"@SeanSean252: @WayneDupreeShow @Rockprincess818 @CheriJacobus pic.twitter.com/5GUwhhtvyN"
3:05 PM - 22 Nov 2015
The message immediately took off on the social media platform, with thousands of people retweeting it and liking it within an hour. But many also lashed out angrily against the real estate mogul, calling Trump a racist and questioning the veracity of the stats.
Indeed, an initial search to confirm the numbers couldn't turn up a "Crime Statistic Bureau" in San Francisco.
However, the percentages do, in some ways, align with Department of Justice (DOJ) findings from several years ago. A DOJ study released in 2011 reported that 93 percent of black homicides were committed by other blacks between 1980 and 2008.
In 2014, that figure was roughly 90 percent in 2014, according to the latest DOJ numbers.
The category tweeted out by Trump that doesn't fit with DOJ statistics is "Whites Killed by Whites," which Trump's tweet indicated was 16 percent.
According to the department's 2011 report, 84 percent of white homicides were committed by whites between 1980 and 2008. That number was 82 percent in 2014.
Read more
T

he nation went through a period of contemptuous reaction to mentions of Adolf Hitler and his Third Reich. It is interesting to watch diminution of criticism of acts that very much resembles Europe's genocidal past. Media hosts are no longer interrupting guests who speak of Hitler's Brown Shirts and the Holocaust. Conversely, it is intriguing to watch as history repeats itself via Trump without equalizing heightened condemnation from the American public. Moreover, we are not hearing any condemnation for Reince Priebus's RNC, and hearing very little from the GOP and it heard of remaining presidential prospects.
UPDATE: Little Green Footballs

located the source of Trumps Tweet

data. Trump has some seriously disgusting reading habits.

Vox takes the Trump meme to an even deep level and a level that matches the images and text above. Vox