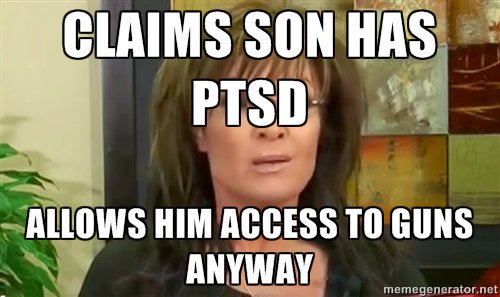 Republican politics and the sticky ooze of some GOP politicians has been again taken to new lows. Donald Trump has secured an endorsement from the lowest denominator in the GOP: Sarah "I quit" Palin.
It has taken the tundra embarrassment less than 48 hours to turn the 2016 GOP Primary campaign into reflections of:
And that brought ion reflections of:
"Are you crazy or just stupid"
Yesterday the veritable dimwit took a stage at her second trump appearance and addressed
her son's early week arrest for drunkenness, abuse, and weapons charges. Palin laid her son's
troubles squarely on President Obama (See video via NBC news below).
Vets: Don't Blame Obama for Track Palin's Behavior
by CORKY SIEMASZKO
Don't blame President Obama for the PTSD that Sarah Palin claims her oldest son is battling.
That was the message Wednesday from the head of a New York City-based veteran's organization that has fought for years to get Iraq and Afghanistan war vets help with their post traumatic stress disorder.
"It's not President Obama's fault that Sarah Palin's son has PTSD," said Paul Rieckhoff, who heads Iraq and Afghanistan Veterans of America (IAVA). "PTSD is a very serious problem, a complicated mental health injury and I would be extremely reluctant to blame any one person in particular."

Sarah Palin speaks to a crowd as she introduces Republican presidential candidate Donald Trump at a rally in Tulsa, Okla., Wednesday, Jan 20, 2016. Brandi Simons / AP
Rieckhoff weighed in after Palin saidher son Track's arrest on domestic violence charges this week stemmed from the PTSD he contracted after serving with the Army in Iraq — and because of Obama's supposed lack of "respect" for veterans.
The former GOP vice-presidential candidate made the claim at a rally in Tulsa, Oklahoma after she endorsed Republican front runner Donald Trump for president.
Rieckhoff, whose organization is non-partisan, said "it's important to recognize that Track may need help like many veterans" — and that his mother is in a position to use her influence to help him and other vets.
"This is a great opportunity for Sarah Palin to sound the alarm about PTSD," he said. "Now that she has endorsed Mr. Trump, I would encourage her to talk with him about it. Mr. Trump's campaign is pretty light on specifics about what he would do for veterans."
Rieckhoff urged Palin to "resist the urge to politicize" PTSD.
"I hope this doesn't become a portable chew toy in a political campaign," he said.




Track Palin, 26, was arrested Monday in Wasilla, Alaska after he allegedly slugged his girlfriend in the face, kicked her in the knee, and threatened suicide with an AR-15 assault rifle. He was charged with interfering with the report of domestic violence, possession of a firearm while intoxicated and assault.
Palin calls sons arrest the elephant in the room at trump event
Palin Calls Son's Arrest the 'Elephant in the Room' at Trump Event 2:06
This was not Track Palin's first brush with the law. Back in 2014 he was involved in a wild brawl at a house party in Anchorage, during which his sister Bristol allegedly punched the host repeatedly in the face. No arrests were made and no charges were filed.
Track Palin served in Iraq with the Alaska-based 25th Infantry Division's 1st Stryker Brigade Combat Team for a year in 2008 — while George W. Bush was still president.
End NBC repost
If you happen to feel Palin was wallowing in more "PIG with lipstick" Palinese, think a bit deeper. Carnival barkers are known for honing their messages for effectiveness. Trump told CNN Don Lemon he suggested Palin go there with the Obama attack. Well, if you think a bit deeper recognize Trump's words are a mere cover up for his and Palin's need to address her dysfunctional family.
Did Obama influence the late night Alaskan brawl at which Palin's daughter was a central combatant? Reports not only attribute the fight to Palin's daughter possibly throwing the first punch, I also read reports of drunkenness.
GOP deflection is endemic to the party and inherent across the full scope of the party. However, Trump/Palin's efforts to cover poor child-rearing and overwhelming lack of class and common decency should not have been attributed to claims of PTSD.
Stupid is as stupid does!
Yesterday we published on the extent to which Palin's remarks are mere sycophant fodder from two carnival barkers.

Why do Republicans fail to respect technology as it relates to electronic archives?