Let's take a run (video run) through last weekend's Nevada Democrat Conference Circus. Ugly behavior was the color of the day last Saturday. It is amazing only a few months back we saw similar from the emergence of Donald Trump, and as we look further back, think about Ron Paul's supporters and their disruptions of events.
The Saturday event included uncommon levels of public exhibitions of childishness, physical altercations, shouted down speakers, and very child-like chaulking of the Democrat Party office building wall. Moreover, a leading state party officials, Democratic State Party Chairwoman Roberta Lange, has received physical threats.
What you are about to see is well outside the realm of rational and it seems to indicate a deep level of dangerous childishness.
Mediaite and many additional social media sources, as well as all television new outlets, have published or broadcast regarding the breakdown of civility. Mediaite's

piece

is important because it includes cogent and poignant comments from CNN's nascent
CNN political director
David Chalian
.
Well, when your boss goes here what is a campaign official to do?
https://youtu.be/YfJ7KZdb6Ig
If you have been ion a space capsule, or if you so hate current event news you avoid any television network which might show video of last weekend's political discord, you should check out the following MSNBC segment. Andre Mithcell interviewed the fell 500 shy of seating available delegates seats.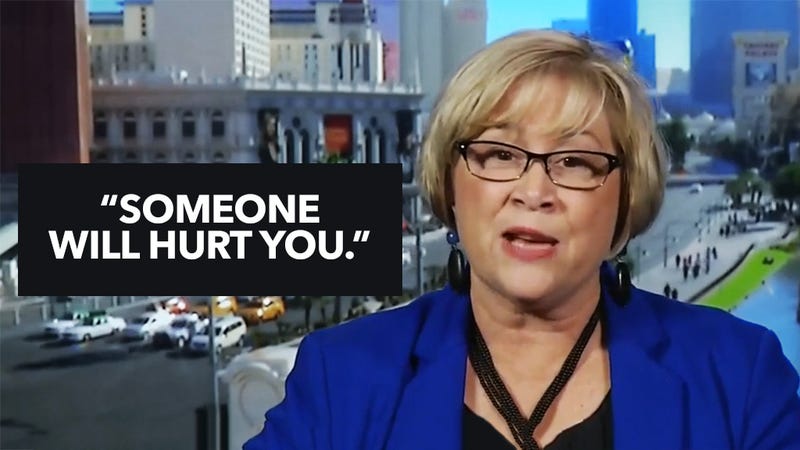 Democratic State Party Chairwoman Roberta Lange
Andrea Mitchell and Nevada Party Chair Lange
http://on.msnbc.com/1Tee4Em


Lange also sat for an interview with MSNBC's Chris Matthews. The segment is ten minutes plus in duration; worthy of skipping through the various pundit opinions.
HARDBALL WITH CHRIS MATTHEWS 5/17/16
NV Dem Chair speaks out about threats, violence

Nevada Democratic Party Chair Roberta Lange talks to Chris Matthews and Joy Reid about Saturday's convention that escalated into chaos.
http://on.msnbc.com/1rSAe31
Rachel Maddow
hosted t
he final MSNBC segment which included a Las Vegas print media progressive writer and a Sander's supporter (who claimed innocence on all matters this past weekend).
http://on.msnbc.com/1TXadG2
While I often criticize the DNC Chair, Debbie Wassermann-Schultz, she has addressed the weekend embarrassment. I actually think there is no good answer for what took place in Las Vegas.
— CNN Tonight (@CNNTonight) May 18, 2016
The Slot published an intriguing

piece

regarding their calls to people who actually took part in the Democrat Saturday Night WWE event.