Late last week MIC dot com published a piece related to Donald Trumps seeming penchant for visiting unsavory web pages, extracting tweetable items and tweeting or retweeting like a child with a new toy. The MIC piece focused on the recently tweeted meme of Hillary Clinton embedded over a background of large denomination US dollars accompanied by a Star of David with a political message.
After two days of strategy, the Trump campaign immersed yesterday with something of a false narrative strategy. The strategy memo must read.
Trump did not post the tweet.
It was posted by a former caddy hired as a social media functionary.
It was created by the functionary.

(Ultimately) it was not a Star of David, it was a 'sheriffs' star.
I should also remind you, the tweet took place towards the middle of last week with the exact same meme posted on a disgusting Anti-Semitic message board on June 22, 2016.
MIC dot com
Again, it is important to point out Trump's affinity for visiting Twitter pages so full of racist and anti-semantic posts, assertions of he is not a racist are futile (Newt Gingrich).
Trump's racist and anti-Semite Twitter research, uncovered a meme created in late June via message board that is literally full of pure garbage:
/pol/ - Politically Incorrect★ ,
The following actual post is available via visiting this link and scrolling down(from MIC dot com).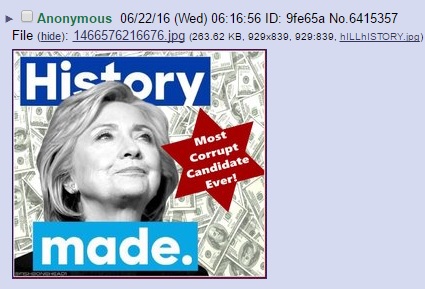 MIC also reports as follows.
Of note is the file name of the photo, HillHistory.jpg, potentially a nod to the Neo-Nazi code for "HH," or "Heil Hitler," which the alt-right is fond of hiding in plain sight.

The watermark on the lower-left corner of the image leads to a Twitter account that regularly tweets violent, racist memes commenting on the state of geopolitical politics.
If you take a look at the replacement meme via Trump's social media team, the circle appears superimposed over the 'Star of David" clip art.
All efforts to "circle the wagons" around Trump, the fact remains a meme made it on to his Twitter account with genesis in neo-nazi white supremacy. Moreover, no one from the Trump campaign has come forth with a heartfelt sincere "we are sorry for the mistake" regarding the disgusting post.
Let's visit with one of CNN's most ridiculous Trump supporter/surrogate: Jeffrey Lord.
Mediaite
Lord attempted to follow the "memo", but the strategy is full of holes. The meme was created a full two weeks before Trump's former addy guy, allegedly found it on a conservative twitter account. When will any level of decency ease into Trump's campaign? Before we move on, it is important to report that I personally heard and saw the "Sheriff's star" strategy for at least three Trump talking heads.
The meme has been modified, the Trump campaign has embarked on protectionism, and it is time to move on, correct? Actually, no it isn't time to move on.
We recognize Trump has deployed
a GOP southern strategy on steroids
since day one. He has offended every minority group in the United States. B
efore the General Elections,
he will offend segments of the white male population.
If rumors are accurate he is about to choose Newt Gingrich (VP prospect) to assist in carrying his white nationalist message while campaigning. Only Mike Pence would make a more cohesive mission oriented purveyor of Trump's strategy

Fortune recent addressed Trump's dangerous courting of America's white supremacists. The Fortune piece is poignant.
If you chose to avoid reading the fortune piece, how about a visual of what Trump hatred looks like.
Are you old enough to remember the image below?
Just as ugly, eh?