Yesterday we published a piece focused on Donald Trump's awkward introduction of his running mate. Mike Pence. The work also included a moderate amount of visual images related to Pence's over-the-top bigotry and regressivism. Trump's Unconventional Introduction of Pence: Disdain Or A Rush To Twitter? Wouldn't you know other media is providing detailed pieces regarding Trump's running mate.
In essence,Trump couldn't have chosen a more clone-like puppet as a partner.
Buzz Feed Reporter, Andrew Kaczynski, published a piece (yesterday) which further illustrates Mike Pence's regressive ideology. In the early 1990s Pence wrote a stinging OP-ED with criticism of George H. W. Bush's signing of the 1991 Civil Rights Act. An act which countered a barrage of SCOTUS decisions which became barriers to minority and women discrimination lawsuits. Pence was a virtual lone voice against the Bush signing as the bill was overwhelmingly supported by both Houses of Congress.
As executive director of a conservative think tank in Indiana, Mike Pence wrote an editorial sharply criticizing then-President George H.W. Bush for signing the 1991 Civil Rights Act

While the bill passed through Congress with overwhelmingly bipartisan support, it was opposed strongly by many in the conservative movement, including commentators like Pat Buchanan who argued it would create "reverse discrimination." Bush had previously vetoed a more comprehensive version of the bill in 1990, saying he feared it would establish quotas.

Pence's 1992 op-ed in a local Indiana paper, uncovered by BuzzFeed News, is an early example of the activism that would make Pence a favorite among many in the conservative movement. Donald Trump's decision to pick Pence as his running mate was made in part to appeal to conservatives who had been hesitant to back him.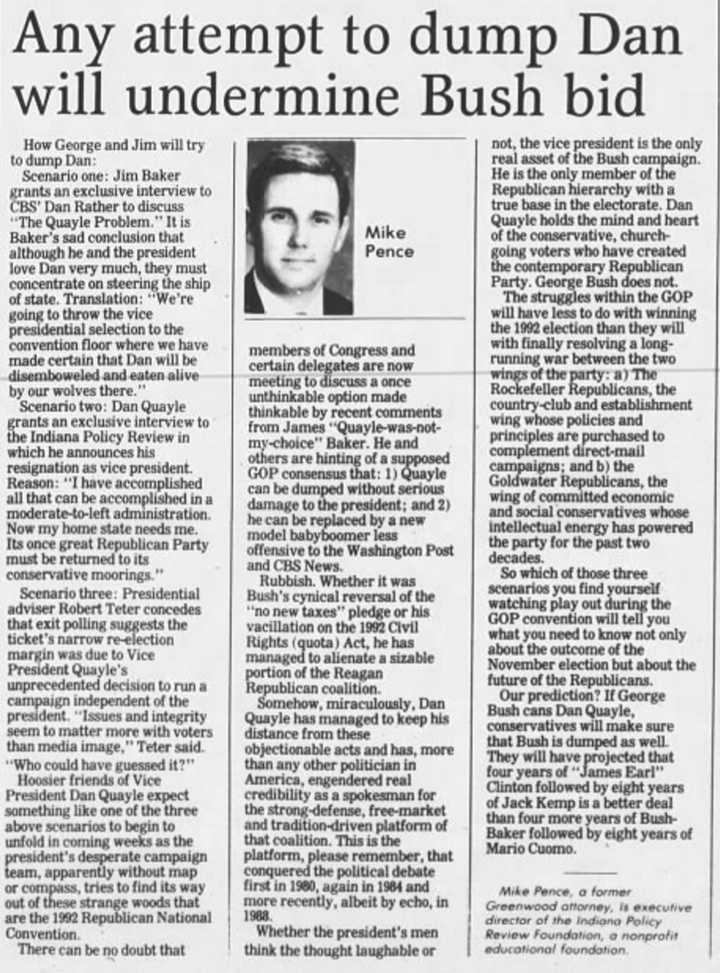 If you have a few more a minutes, the following MSNBC Rachel Maddow segment is a must watch. A must watch, if you want to get a good feel for Pence's ineptness as he allows his Paleozoic Era social paradigm (laden with saturated bigotry) to get out ahead of rational thought. Maddow unravels Pence.