Have you noticed over the past week proliferation of "blacks for Trump Signs strategically visible behind Trump's bloviating face at certain rallies? If you have seen the signs, you have also noticed most rally attendees holding up the signs are not black people. In most cases, the sign holders are older white women.
If you noticed the signs, you couldn't help but also notice n absence of African-American faces standing behind Trump. Thus, we can extrapolate and suggest Trump's audiences are almost exclusively white. But, let's focus on the recent rallies with one noted African-American male standing very visibly behind Trump.
Before we moved to an embed from last night's ALL-IN with Chris Hayes, a moment of contemplation about the consistent zaniness and unsavory nature of all things Trump. The man seems to attract the nation's whack-heads like Flies on a rotten banana.
New Yorker Magazine published a more detail piece regarding trump's nascent black trumpeter.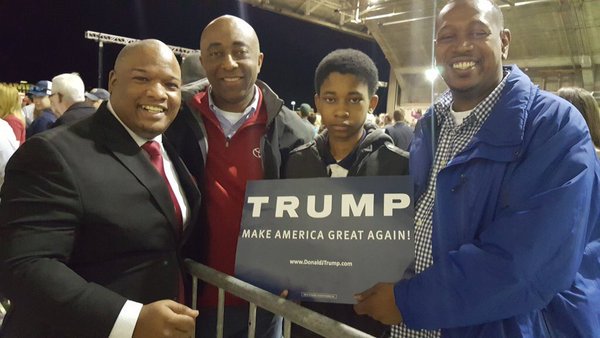 Whatever happened to the guy on the far left after being

busted by CNN

for multiple background

mis

representations?