Last night I used my new personal restriction on US
TV
news (media) to watch a segment of The Rachel Maddow Show and a major portion of Lawrence O'Donne's The Last Word. As we move closer to next week's General elections, My penchant for following current events via electronic media (news) has become 'trumped.' As I consider the networks, all cable news networks seem consumed with offering 24/7 reality Trump TV. MSNBC Evening fare tends to break the mold; after the end of each night's Chris Matthews Show, Hardball.
The Maddow segment was particularly relevant as the host broadcast a segment focused on Trump's support from white supremacists. We find far fewer reports broadcast on CNN and never on Fox news. MSNBC seems to be the only major news network, which devotes critical time to Trump's growing support from a seedy and dangerous national voting bloc. Other networks ignore the danger inherent in such groups while fully subscribing to the nation's glut for Trump.
US (electronic) media (television in particular) has turned into a reality TV Donald Trump/Clinton email cesspool. From seeming libido driven production shots of Trump's plane taxing across the TV monitor to the specials of Trump, and his totally self-centered family through mind-boggling twist to Clinton use of an email server in her home while serving as Secy of State. CNN's post 7 PM (EST) shows have become little more than re-incarnation of the Jerry Springer Show with high-heeled and neck-tied panels verbal fighting, using profane language and utter lying for pay). One CNN 'contributor' is reported on the Trump campaign payroll (after being fired earlier in 2016): Corey Lewandowski.
Network and Cable news networks across the spectrum suffer from trump mania. Social media have filled the information void well beyond any expectation as the internet has grown as an integral communication medium.
Media Matters published a graphic which shows the extent of Trump Vs Clint issues and early morning network TV.

A sad state of entertainment to say it with any degree of civility.
I digress.
Rachlel Maddow hosted a segment about Donald Trump growing support from white supremacists. If you missed the segment, give so thoughts to a viewing.
KKK gains new prominence in the 2016 elections, in more ways than one MSNBC.
Maddow's segment offered perspective often over-looked by Americans who should (in a normal and ideal world) find abhorrent.
The Daily Kos also offered an opportunity for a more detailed review of the KKK's The Crusader. The following Kos embed:
White support for a presidential candidate has never manifest at the level we see in 2016. Such support shouldn't surprise anyone. Trump has exhibited his brand of nationalism and discrimination since before he defied his father's warnings to avoid pursuing real estate endeavors in Manhattan. Well before his ascendancy as a TV reality show celebrity, Trump settled a housing discrimination lawsuit, which involved the coded use of the "C" to deny rentals to perspective black renters. Trump's legal entanglements regarding desegregation in Palm Beach County and his Mar-a-Lago estate
County Club is often cited as evidence of his commitment to non-discrimination.
Mar-a-Largo one access aside, Trump is a hero of white supremacists for a reason.
Why do you support Trump? The rational American should ask the question of themselves and ask why the media doesn't provide much more coverage Trump support from overt racists and anti-Semites.
Last December, Trump commented
about the death penalty
in a braggadocio manner
regarding cop
killers. His comments were stated shortly
after an ambush
killing by a black perpetrator who was obliviously insane and wished to "die by cop."
Trump has yet to comment on the ambush killing of two cops at the hand of a white Trump supporter with a history of brandishing the Confederate Flag against black protesters. According to Occupy Democrats:
.... waving a Confederate flag at football players kneeling during the National Anthem in protest of police violence against blacks.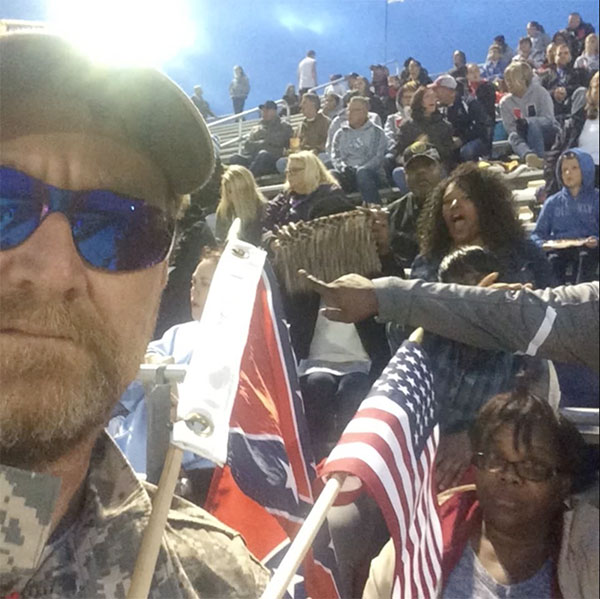 Occupy Democrats also reported the cop killer placed a Trump/Pence sign in his yard two weeks ago.
Actually, it appears Trump may not be in a position to speakout.