Polls, Polls, and more polls.
While Survey/Monkey and Rassmussen have Trump's approval rating moderately over 40%, and McClatcthy/Marist and Gallup have published results at 39 to 40% approval, we feel it worthwhile to post a video with Chuck Todd's running through a few key public perception rating data.
The uniqueness of the BNC polling is in polling focus on the Trump brand.
Respondents were asked three separate questions:
Would you be more likely to use a product endorsed by President Trump?

Would you be less likely to use a product endorsed by President Trump?

Would you actively boycott a product endorsed by President Trump?
We offer the link to the Todd segment while closing with a few graphics from the piece.
Isn't it amazing how the graphics parallel the following graphic: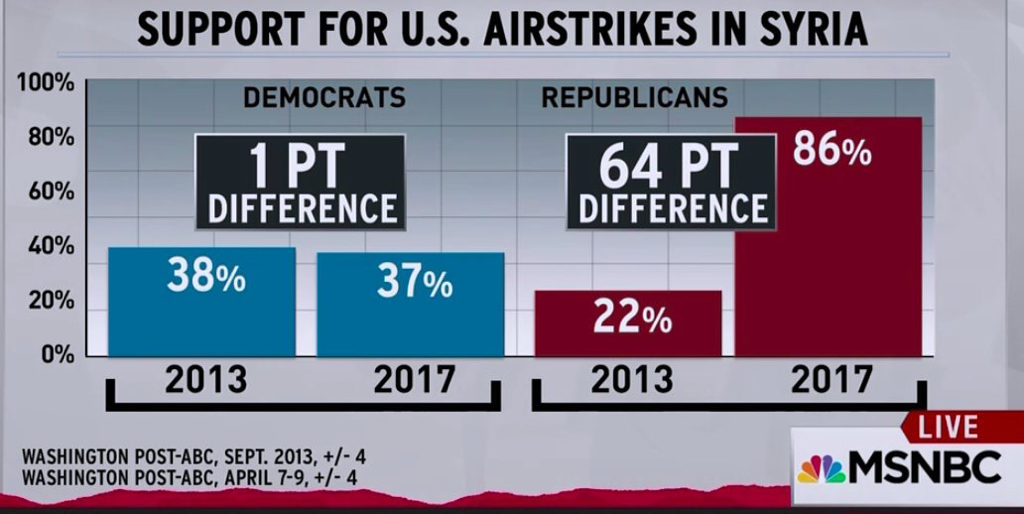 And we wonder why we have so much partisanship in the US Congress.
UPDATE:

Since publishing this piece earlier today, we ran across a recent

release from Gallup

.
WASHINGTON, D.C. -- President Donald Trump's image among Americans as someone who keeps his promises has faded in the first two months of his presidency, falling from 62% in February to 45%. The public is also less likely to see him as a "strong and decisive leader," as someone who "can bring about the changes this country needs" or as "honest and trustworthy."
Percentage who think each of the following applies to Donald Trump
Feb

1-5

Apr

5-9

Change

%

%

pct. pts.

Keeps his promises
62
45
-17
Is a strong and decisive leader
59
52
-7
Can bring about changes this country needs
53
46
-7
Is honest and trustworthy
42
36
-6
Cares about the needs of people like you
46
42
-4
Can manage the government effectively
44
41
-3
GALLUP
Over the past two months, Trump's ratings have declined at least marginally on all six characteristics that Gallup measured in its April 5-9 poll. The percentages saying he cares about the needs of people like themselves and that he can manage the government effectively slipped three to four percentage points, but the changes are not statistically significant.