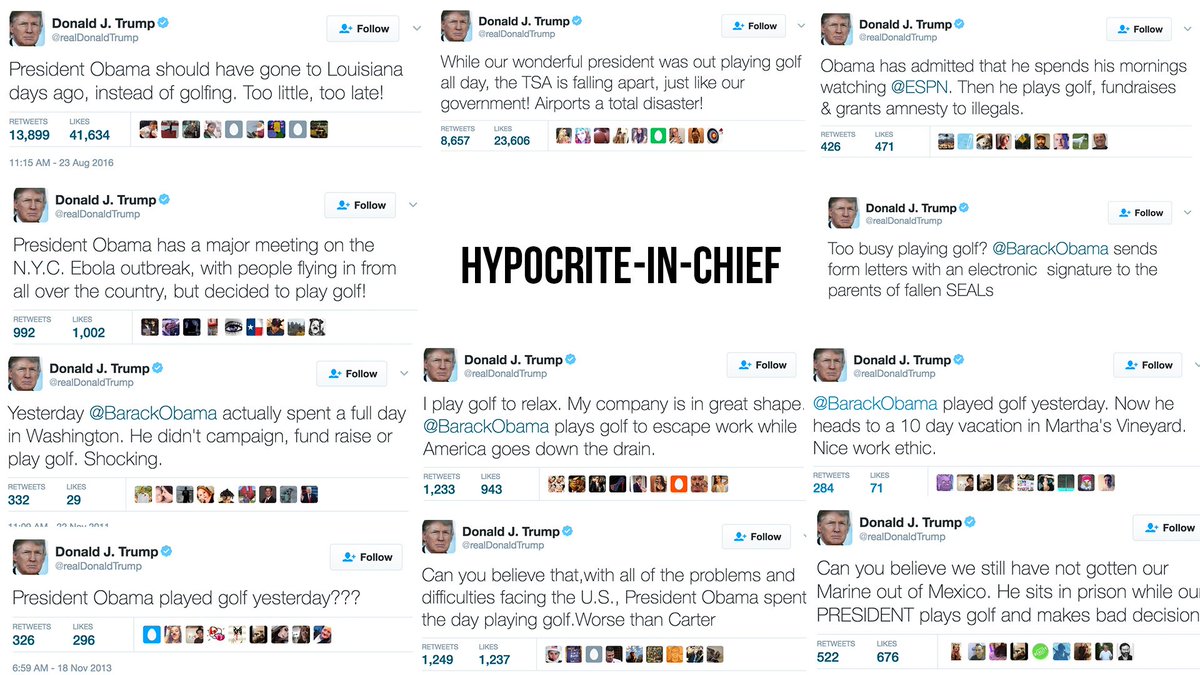 Of course, you know by now Trump is not only the serial liar of modern mankind, you may also have started the process of coming around to his utter hypocrisy. Both are 'first thought' traits of the carnival barker, who convinced enough gullible conservatives and celebrity lovers to vote hi in the Oval Office. We also lay blame for the Trump presidency to Bernie of Bust folk who refused to consider Hillary Clinton a viable candidate. We also hold the millions who refused to vote at all in extreme contempt.
We have, of late, focused on Trump and his $60 plus million finger tap of Syria's Assad; time for a look at a level of hypocrisy not often available across the spectrum of modern humankind. Let's take a look at the business of that sport favored by the world's elites and elite wanna bs: golf. Specially, let's compare Obama's golf trips (and events) with those of Trump sincy he took office this past January.
Trump Vs Obama
Summary Judgment published a YouTube segment regarding Obama's golf over the course of his presidency and that of Trump of late.
After a few reports that Trump Tram has asked media to avoid reporting of his golf outings, one network took the latest outing front and center.
If you have a bit longer sit through this intriguing episode of the nation's 45th President. Oh, how far we have sunk? Black curtains as a tool against media coverage?
Oh the hypocrisy.