Over this past weekend, Hurricane Harvey hit the South East Texas cost with a fury. An unprecedented CAT 4 Hurricane which hit land just north of Corpus Christi.
As we would expect form a US president emergency meetings would ensue Trump took his team and family to Camp David as the storm approached Texas for what could have been a golf fest. Apparently, Mike Pence joined the cadre at Camp David for the emergency meeting picture below. Trump isn'
t heading and leading the meeting, yet there are pictures of Trump in the meeting room at what seems a different time.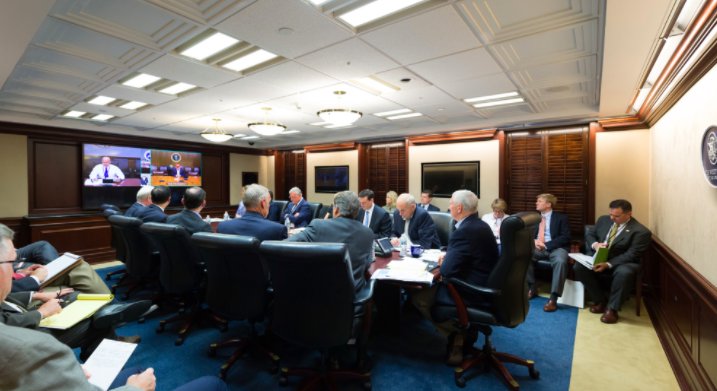 Now, why would the nations 45th President sit in an empty netting room very obviously anointed with a new RED USA cap?
Maybe your prefer a picture with a nice white hat. Why is this man violating all sense of decor via wearing the hat indoors?
Now take a second and click on this link:
Shop.Donaldjtrump.Com
Trump is a total charlatan and anyone who accepts his hawking a new style of hat at $40.00 a pop, for a damned hat, is a total nut case.
BTW, the same (or similar) hat can be found via a basic Google search for $19.99.