Your reality TV
— Judd Legum (@JuddLegum) March 13, 2018
"Yesterday Tillerson supported Theresa May in her 'highly likely' Russian accusation. And Trump immediately fired him. Trump is ours!" - Olga Skabeeva on the Russian equivalent of 60 minutes.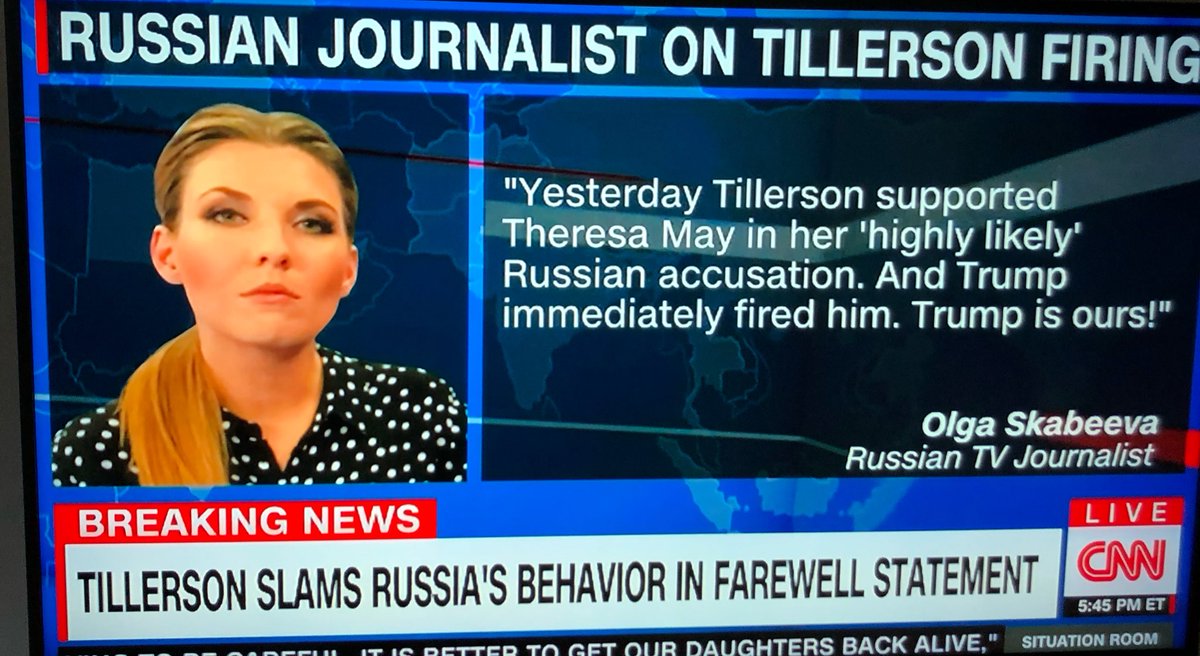 Is Trump a Manchurian Candidate?
Manchurian Candidate or not, Trump certainly has issues with staffing his administration for national leadership. Rachel Maddow's "departure" wall/list is growing exponentially as the weeks pass. I believe Trump's turnover to date is approaching 43 percent. High turnover is a sign of a sick organization and chronically poor leadership.
"I'm going to do that awkward camera turn right now..."@maddow says about adding Tillerson to the long list of Trump administration departures. pic.twitter.com/nTfnRRNSG9

— MSNBC (@MSNBC) March 14, 2018
We suspect the Maddow list will increase over the next few months. Apparently, enterprising journalists have uncovered more flight time abuse via another member of Trump's inner circle. it seems Scott Pruitt is as guilty of "airplane: abuse as Tin Price. Intriguing as it seems, this "swamp" abuse may include KellyAnne (Alternative Facts ) Conway.
Price Gone.....Pruitt next?
Media Matters
A timeline of scandals and ethical shortfalls at Scott Pruitt's EPA
excerpt
The Trump presidency has been called the most unethical in modern history, with its scandals continuously dominating the news cycle. And the questionable ethical behavior extends far beyond the White House to cabinet members and the departments and agencies they oversee, including the Environmental Protection Agency.
Journalists covering the EPA have unearthed a litany of scandals, conflicts of interest, extravagant expenditures, and ethically dubious actions involving administrator Scott Pruitt and other politically appointed officials. Here is an overview of the reporting on ethical scandals at Pruitt's EPA, starting a week after he was sworn in and including half a dozen controversies reported in the past month alone:
February 24, 2017, KOKH: Pruitt lied to senators about his use of a private email account. An investigation by Oklahoma City Fox affiliate KOKH revealed that Pruitt lied during his Senate confirmation hearing when he said he did not use a private email account to conduct official business while he was attorney general of Oklahoma, a finding later confirmed by the office of the attorney general. The Oklahoma Bar Association subsequently opened an investigation into the matter, which could lead to Pruitt being disbarred in the state of Oklahoma.
As Trump's World Turns

would be incomplete without the daily reminder of just how underachieving and devalued is Trumpism. How about a former Fox News dink to replace the guy who was fired for not following the Trump party line of his firing of Tillerson via twitter

?
NEW from the WH:

"The following individual to be Acting Under Secretary of State for Public Diplomacy: Heather Nauert Norby of New York."
She replaces Steve Goldstein, who was fired today for breaking from the official line on when Rex Tillerson found out he'd been axed.
Trump moving fast at State: Spokeswoman Heather Nauert named acting undersecretary for public diplomacy, replacing Steve Goldstein

Speaking of Fox News, how about a run at the networks Chief Trump ideologue: Sean Hannity.
If you are like me, you know people who tune-in to Hannity on a daily basis.
After last night's Democrat Party win of Pennsylvania special election in a district Trump won by 20 plus points in the 2016 general election, Fox trotted this mess out for Trumps early morning viewing. In addition to feeding Trump daily talking points, Fox also has a revenue obligation to feed for Fox and Friends early morning tin-heads. What follows is truly unbelievable.
The truly unbelievable aspect of the segment? Fox News viewers soak up Fox News bullcrap (e.g., propaganda, lies and nefarious misinformation) like expensive Hoover vacuum cleaner.
Wonder how it feels to walk through life a literal Fox News robot with an image of Hannity emblazoned on the forehead?