www.dictionary.com/e/slang/trumpism
_____________
The times of Trumpism: Anti-Jewish and Anti-Black protest..and the aftermath.
Earlier in the week we ran across posts regarding the continuing efforts to ID and expose white supremacists who attended the Charlottesville torch rally. Recall that rally: "Jews will not replace us."
A Northrup Grumman Ph.D. candidate engineer is no longer employed by the defense contractor.
The hand and fist wrapped racist pushed an African-American man to the ground and repeatedly punched him. When open wraps their hands as if preparing for a boxing match, one should be in a boxing ring and not representing white supremacy while working for a defense contractor (with a Secret Security Clearance). It should be noted the racist engineer defies false belief that hardcore racism is the exclusive domain of Baby Boomers.
White Supremacist (Engineer) Defense Employee Fired
I can't help but wonder if our efforts in commenting via the defense contracts website assisted in the infamous entity to the US unemployed.
On another front, Trump and his secret cadres are seeking out and discharging immigrants for the US military. Many immigrants joining the US military with a promise of citizenship. well, promises out of the Trump machine are tantamount to flatulence in a hurricane.
Promises broken.
As we speak about Broken promises as a form of lie, misleading statements and general what has to be expected from Trump, we simply must touch upon a couple of high-level lies and utter disrespect for two American War Heroes.
Exhibit One: North Korea returning Korean War casualty remains to the families of the fallen heroes. An over-the-top disgraceful lie.
Reuters
Trump:
"And I understand ... that they've already sent back or are in the process of sending back the remains of our great heroes who died in North Korea during the war," Trump said at a Cabinet meeting.
Trump, who met with North Korean leader Kim Jong Un at an historic summit in Singapore earlier this month, said on Wednesday the remains of 200 American servicemen had been sent back.
Two U.S. officials, speaking on the condition of anonymity, said that while North Korea was expected to return the remains of soldiers in the coming days, they had not yet been returned.
How low will the nation allow Trump to slither before a time of reckoning? Was it actually necessary to lie to the families of the fallen soldiers? Was the optic with North Korea so important the short-term excitement among his supporters was worthy of the longer-term revelation of a lie?
As Trump prepares for another round of "suckle with the dictator" the "deal: lies he told are unraveling like a windblown comb-over. The North Korean delegation (NK) which met with Pompeo shows signs that Trump's secret talks with Kim left many with misperceptions. The least of which seems to be the North Koreans. Why wouldn't the NK delegation expect discussions of de-nuking from Trump's man in the State Department? Quite probably because Trump and Kim did not discuss de-nuking.
Apparently, the GOP or maybe Trump functionaries in the GOP (with visions of rubles in an election year) spent the Fourth of July week execute what can only be described as unctuous groveling to a group of Russian officials. The wayward GOPers sought a pre-Trump/Putin meeting with the Russian leader but met with "....he is too busy."
— Julia Davis (@JuliaDavisNews) July 3, 2018
While the GOP is courting Putin's government, Trump's tariffs are reaping hell on US farmers, manufacturers, and middle-class employees. One German auto manufacturer with the largest auto assembly plant in the US is threatening to close its South Carolina facility if Trump ups tariffs on the EU. Well, you might think, you don't really care, after all, it is a German company, not a US company. Well, how about US farmers who grow and export Soybeans to China.
Is it actually possible Trump's economic advisers failed to consider the reality of Brazil as the most agricultural nation on Earth? Take a quick look at a chart from the linked Bloomberg article.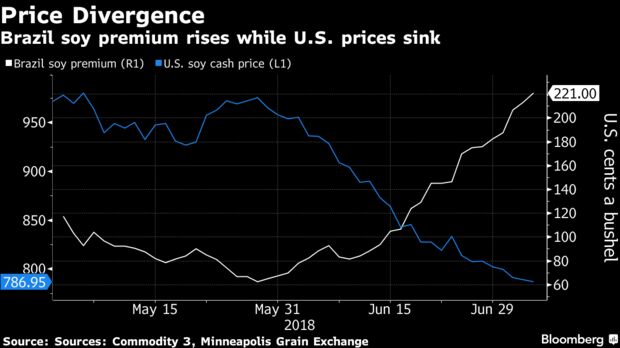 Bloomberg linked
What follows represents a couple of stark examples to go along with other horror stories available via a simple Google search of companies affected by Trump's tariffs.
Despite being halfway through the 2018 calendar with the mid-term elections looming in the fall, I cannot help but think back starting at Trump 2017 at the annual CPAC Oozfest.
Thirteen percent (13%) believe; Trump is honest.
A US President sets the tone of the nation while serving as a guidepost to the free world. When a president lowers themselves to the depths of Trump, humankind is at risk.