During Trump's disastrous trip to Britain his disdain for news networks which call him out (accurate reporting) and refuse to buy into his lied laden agenda. On an international forum, he attacked CNN's Jim Acosta as working for a network which purveys "fake news." he did so while bantering a network which actually doesn't serve the public as a new network. Fox News's number one demagogue and Trump adviser Sean Hannity has admitted he doesn't offer news.
I'm not a journalist jackass. I'm a talk host.
I also feel it is safe to assume Trump's favored morning TV viewing, Fox & Friends isn't a news delivery platform. Actually, through the broadcast day, I suspect it is hard to find real news broadcast by Fox.
Of course, we should have expected Trump's planned indictment of CNN if for no other reason his recent hire of a former Fox News executive pretty much sanctions fox as Trump's perception of US state TV.
"

CNN is fake news," the president declared. "I don't take questions from CNN." He then pointed at the raised hand of John Roberts, the White House correspondent for Fox News, saying, "Let's go to a real network."
The report from Fox News, John Roberts, later spoke about Trump's efforts to silence media. While Roberts spoke about the Trump Lugenressee, he really should have sent a message to Trump and posed the very same question as Acosta had planned to ask.
I mentioned the disastrous trip to Britain. In addition to a 30-minute rambling interview with British tabloid replete with racist and pro Brexit dogma, Trump forced a 92-year-old Queen of the British Monarch to stand to wait or him for 15 full minutes.
The British monarch Queen consults her watch.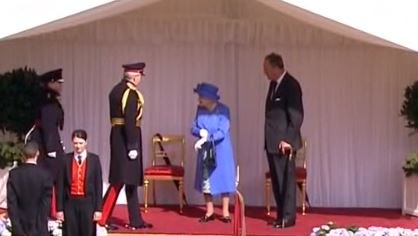 While I personally wouldn't have constructed a meme with the "douchenozzle" vernacular, the following graphic speaks volumes about a lost soul (who sees in the US Oval Office.