Yesterday one of MSNBC's resident conservatives and his production team hosted a segment replete with what some thought would be a balanced discussion of politics. As is the case with all things conservative, the segment ended with a dud comment from a Paleozoic Era NBC Nightly News host. A host who really should relegate himself to the role of a quiet conservative. Before we comment on Tom Brokaw's comments, let's digress some to make a point about Todd's production and the reality of a conservative show host flapping around like a fish out of water seeking to support Trump.
Congressman Hakeem Jeffries D-NY. last week
"These are challenging times in the United States of America — we have a hater in the White House, a birther in chief, the grand wizard of 1600 Pennsylvania Avenue," Jeffries said at an event hosted by the National Action Network in Harlem. "One of the things that we've learned is that while Jim Crow may be dead, he still got some nieces and nephews that are alive and well."
As we consider the United States since July 2015, it is impossible to avoid recognition of significant changes in national leadership. Leadership which reaches to the very top of federal governance: The 45th US President. In addition, to an overwhelming increase in nation's spending, as the Trump economy added $2 Trillion to the US deficit since January 2009, social regression in many forms has reached back to the days of the 1940s.

We are writing about matters related to Trump.
In the late summer of 2017, white supremacists and Jew-hating white men (and some women) held a well-planned protest against the removal of a confederates general statute in Charleston, SC.
After the dust settled Trump and his staff worked to clean up his support for the white supremacists via perfunctory remarks which made little to no sense. A year later Trump was reported to have stated his efforts to minimize his support for "both sides" was a mistake. According to Bob Woodward via his book, Trump privately stated he regretted the efforts to clean up his "both sides" comments.
Let's visit a bit of data regarding growing racist hatred since Trump took office. Growth which he has yet to directly challenge.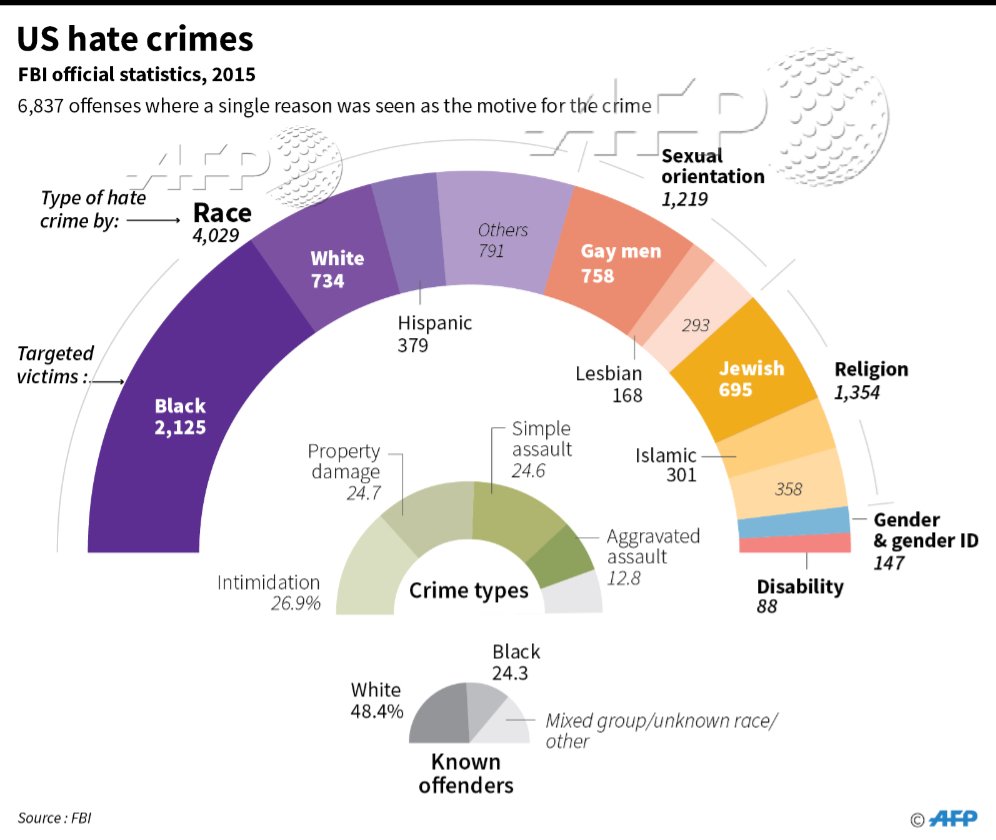 And, not a word of caution or condemnation from Trump. How could or why would Trump condemn when he has a current and past history of close association with the likes of:
And of course, you recall Trump was the leading messaging regarding the racist attacks on Barack Obama's citizenship as the 44th US President.
Lets now play around with a related loose syllogism.
Major premise: All men are mortal. Minor premise: Socrates is a man. Conclusion: Socrates is mortal. (This is an example of Aristotle's famous "Barbara" syllogism.)
Major premise: Plants need to carbon dioxide to live. Minor premise: The oak tree is a plant. Conclusion: The oak tree needs carbon dioxide to live.
Major premise
:
Whites supremacists and anti-Semites are major Trump supporters.
Minor premise

:

The Ku Klux Klan and US Nazis are white supremacists.
Conclusion:
Trump is a favored leader of white supremacists and anti-Semites.
US leaders of white supremacists and anti-Semites have for more than a century followed leaders who were referred to as "grand dragons."
Why would MSNBC's Chuck Todd join at least one CNN host in challenge Representative Jeffries use of an apropos metaphor regarding t/rump? Why would Todd use the word "apology" when we have a man in the White House who has delivered the most heinous and disgusting attacks on fellow Americans?
The simple answer is the false belief that an occupant of the White House is due an artificial level of respect even when the occupant has proven to regard no one outside of his family with even an iota of respect.
Even though what follows took place at the end of the Sunday Show, It seems Todd hasn't issued a comment about Tom Brokaw's foray into the ugly fissures of racism.
No matter Brokaw's intent, one's inner core values tend to eventually ooze to the surface. I offer such is especially true when given a platform such as Todd's Meet The Press. And especially when you have another well known Trump supporter sitting across the table in the form of MSNBC'
s Hugh Hewitt.
Do you recall Todd's remarks to an Ohio state official regarding the official's right to seek voter ID laws in his state? Only a conservative show host and ideologue would go there. Todd went there.