While I do not agree with the perception of Trump's facial change after he realized he was being booed, I feel this tweet is noteworthy. I believe when Trump turned to his wife he was partaking in self-worship which seems to be endemic to his family and his cabal.
WATCH: President Trump met with loud boos as he is introduced at the World Series in Nationals Park on Sunday night. pic.twitter.com/4RTW8ZqxqP

— NBC News (@NBCNews) October 28, 2019
I believe the boos eventually sat-in. It is important to keep in mind the world series is an internationally viewed event. The boos had to serve as a form of an unofficial poll while amid a Major League Baseball crowd of predominate white revelers.
After realizing the "yays" for images of our troops, quickly changed to "boos" upon viewing a live shot of his wife, himself and his stooge entourage. Did President Obama ever travel with such a large contingent of stooge appointed and elected officials?
As the boos

faded

to a more poignant chant ("Lock Him Up"), one has to consider Trump's reaction when the chant ensued. Vanity Fair us reporting the boos reached a decibel level of 100.

President Trump was booed loudly by the fans at Nats Park when he was shown on the big screen.

Then came a loud chant: "Lock him up." @wusa9 pic.twitter.com/LBbgSAHd6k

— Adam Longo (@adamlongoTV) October 28, 2019
Now for a look and listen of a full 33 seconds of video.
As the seconds ticked off, it seems to have sat-in.
Notice a few of his entourage as the aftereffect of the Boos and chats sat-in. One should wonder if these smug-faced Trump worshippers valued their seats as the cameras snapped shots.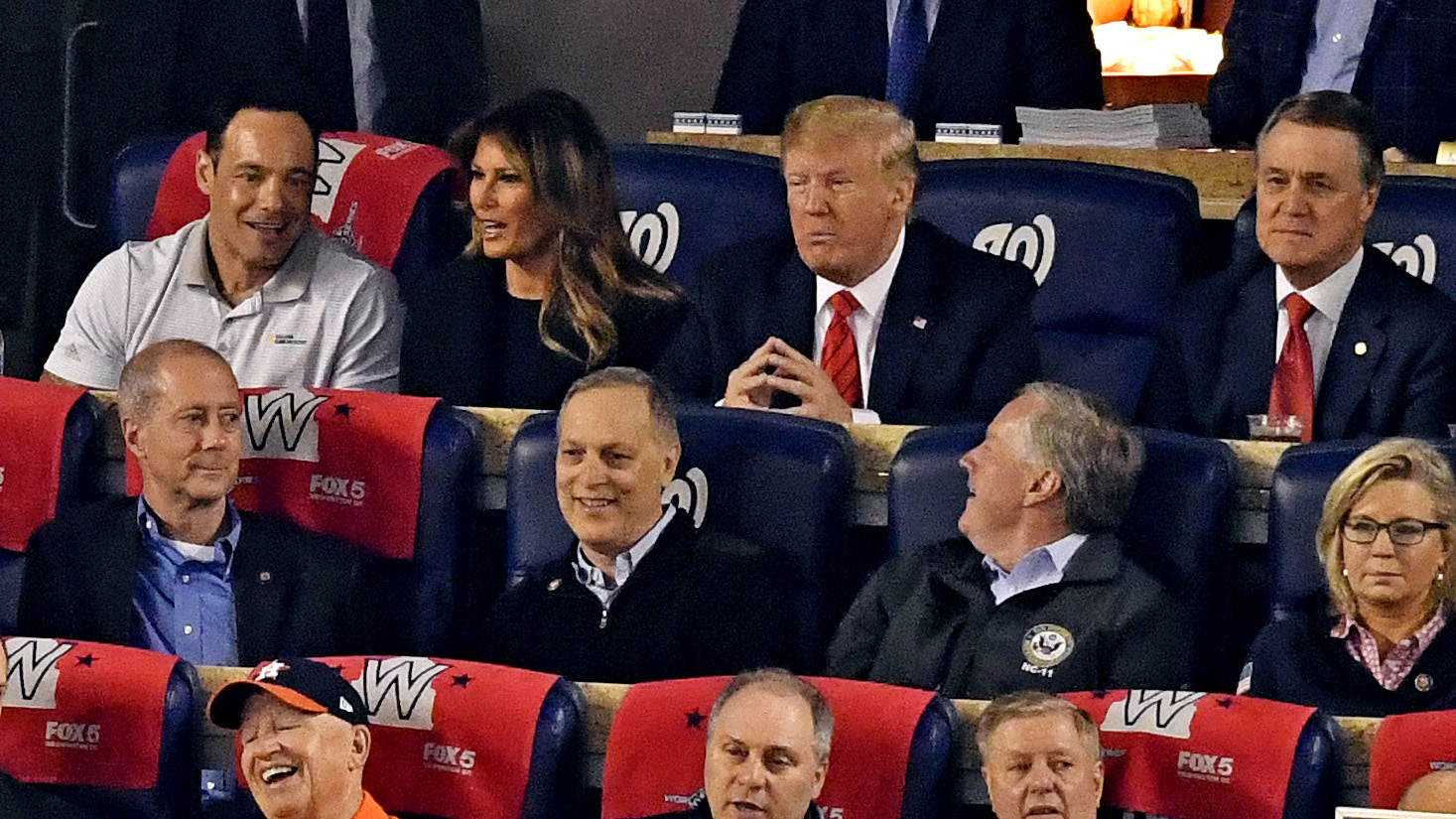 Facial fade when the excitet of cheers devolves into the reality of boos.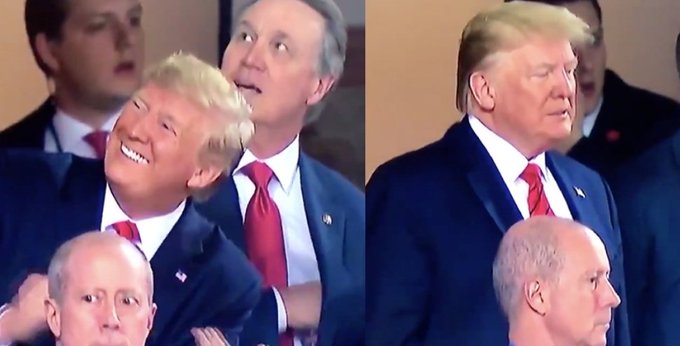 From a crowed which probably was less racially diverse than dancers on the 1980s Soul Train Show (and dance line), or less racially diverse than Trump supporters attending a white supremacist event. But, there was more.
While I suspect Trump never saw this poignant display it is nonetheless critical as a happening a World Series Game.
Wait, wait, wait. Fox & Friends (Trump's favorite morning TV fare) comes to the rescue for Trump's supporters and how viewers.
Underdog to the rescue.
Are Trump and his supporters so feeble of mind the Fox News segment doesn't offend their sensibilities. Well, it seems the question is rhetorical. Despite many of the Fox show viewers having watched the game and viewing the boos with chants, the network offered Joseph Goebbels like fare to please Trump. What a false world in Trumpville?
After a day and weekend of what seems a staged operation relative to timing, the booing was a total surprise. A weekend which yielded an obvious PT Barnum-like photo op.
The following was published via the White House as a photo of the Situation Room (implied) during the raid on the ISIS leader's compound. As you can quickly discern there is a major issue with video feed cables which are not connected and a pose which seems as contrived as any works of Joseph Goebbels for his fuhrer.
It really should't take a master (video) set director to notice purporting a semi-live photo should have been accompanied by a little more subterfuge with the video feed cables.