In January 2011, a former South Carolina prosecutor and Republican politician, Trey Gowdy, was sworn in the US Congress. How can it be in Gowdy's third term in the US Congress the ambitious former prosecutor could have allowed himself to be drawn into the inner core of a political party that practices deceit and dirty tricks politics comparable to no other time in US History?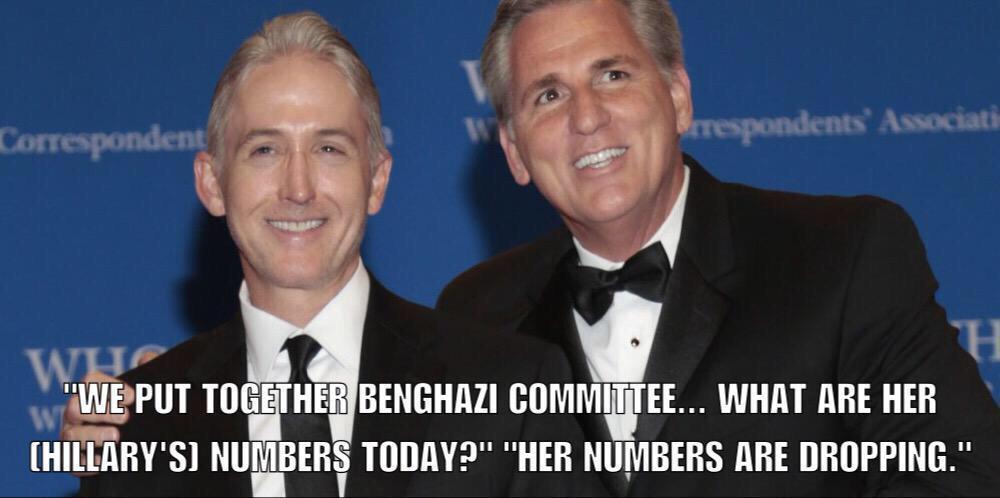 In 2014, Gowdy was appointed as the chair of the GOP Benghazi Committee. Does the following Open Congress information qualify as competent to chair such a critical congressional committee?
Since he took office in 2011:
1 Sponsored Bills (Ranks 428 of 440) 0 Made Into Law (Ranks 41 of 440)
77 Co-Sponsored Bills (Ranks 392 of 441) 4 Made Into Law (Ranks 69 of 441)
Or, did his background as a prosecutor so enamor GOP leadership, it established the nascent congressman as imminently qualified. Better yet, was there behind the scenes maneuvering with Gowdy showing a willingness to play the "hunt Hillary Game?"
It seems Gowdy has performed well in working towards sabotaging the nomination aspirations of Hillary Clinton. The linked

fact sheet

speaks to the level and scope of Gowdy as the good GOP more solid vs. Gowdy as the honest fact seeking Benghazi Committee Chair (as promised). Reports of incessant leaks from the Committee ay have genesis from Gowdy's leadership. The fact sheet and incessant links actually pale when factored against recent comments from House speaker aspirant Kevin McCarthy and this Democrat video.
There seems to exist a committee investigator who for whatever reason is coming clean on what he reports as "get Hillary" responsibilities that failed and led to termination from his investigators role. The US Army Reserve Major delivered a bombshell admission that adds validity to McCarthy's statements and confirmation what we on the Left have known since the first mention of a Benghazi Select Committee.
MediaMatters
From an October 10 New York Times report:



A former investigator for the Republicans on the House Select Committee on Benghazi plans to file a complaint in federal court next month alleging that he was fired unlawfully in part because his superiors opposed his efforts to conduct a comprehensive investigation into the 2012 attack on the American diplomatic mission in the Libyan city. Instead, they focused primarily on the role of the State Department and former Secretary of State Hillary Rodham Clinton, he said.

The former investigator, Bradley F. Podliska, a major in the Air Force Reserve who is on active duty in Germany, also claims that the committee's majority staff retaliated against him for taking leave for several weeks to go on active duty. If true, the retaliation would violate the federal Uniformed Services Employment and Reemployment Rights Act of 1994, which Major Podliska plans to invoke in his complaint, according to a draft that was made available to The New York Times.

Podliska was also interviewed by CNN's Jake Tapper. In the October 11 interview on State of the Union, Podliska claimed the "partisan investigation" shifted focus to almost exclusively focus on Clinton after it was reported that she utilized a private email server. Podliska told Tapper, "The victims' families are not going to get the truth and that's the most unfortunate thing about this."
Media Matters has extensively documented that Fox News and the conservative media have been one of the driving forces behind the creation of the House Benghazi Committee, particularly its focus on Clinton.
After McCarthy's remarks, Gowdy has been all too willing to appear on CNN and Fox News to refute McCarthy's revelation. He like John Boehner has railed about McCarthy statements as the wrong equal to the level of noise and silliness emanating from Donald Trumps GOP 2015 campaign.
Why then has Gowdy refused to go on CNN to address the terminated investigator?
"Used with permission from the TPM websites, a service of TPM Media LLC."
Benghazi Committee Chair Declines CNN Interview To Discuss Ex-Staffer's Allegations
Original
TPM
image replaced by
The Pardu
Trey Gowdy (R-SC), the chairman of the House Select Committee on Benghazi, reportedly declined to appear on CNN's "State of the Union" program Sunday to address allegations made by an ex-staffer of the committee.
The staffer, Bradley Podliska, who was an investigator on the committee for 10 months, told news outlets Saturday that he planned to file a federal lawsuit against the committee for wrongful termination.
Podliska said that he was terminated, in part, for refusing to focus his investigation on Democratic presidential candidate Hillary Clinton.
The committee responded to The New York Times' request for comment on Saturday in a letter.
Read more
It seems nothing good emanates for Americ Republicanism. Gowdy has started a career in the US Congress which seems to have fallen to typical GOP politics.
How about a bit more perspective from Media Matters David Brock?