And, the GOP Campaign 2016 circus continues with the main attraction barker soaking up the preponderance of debate airtime. A circus it was!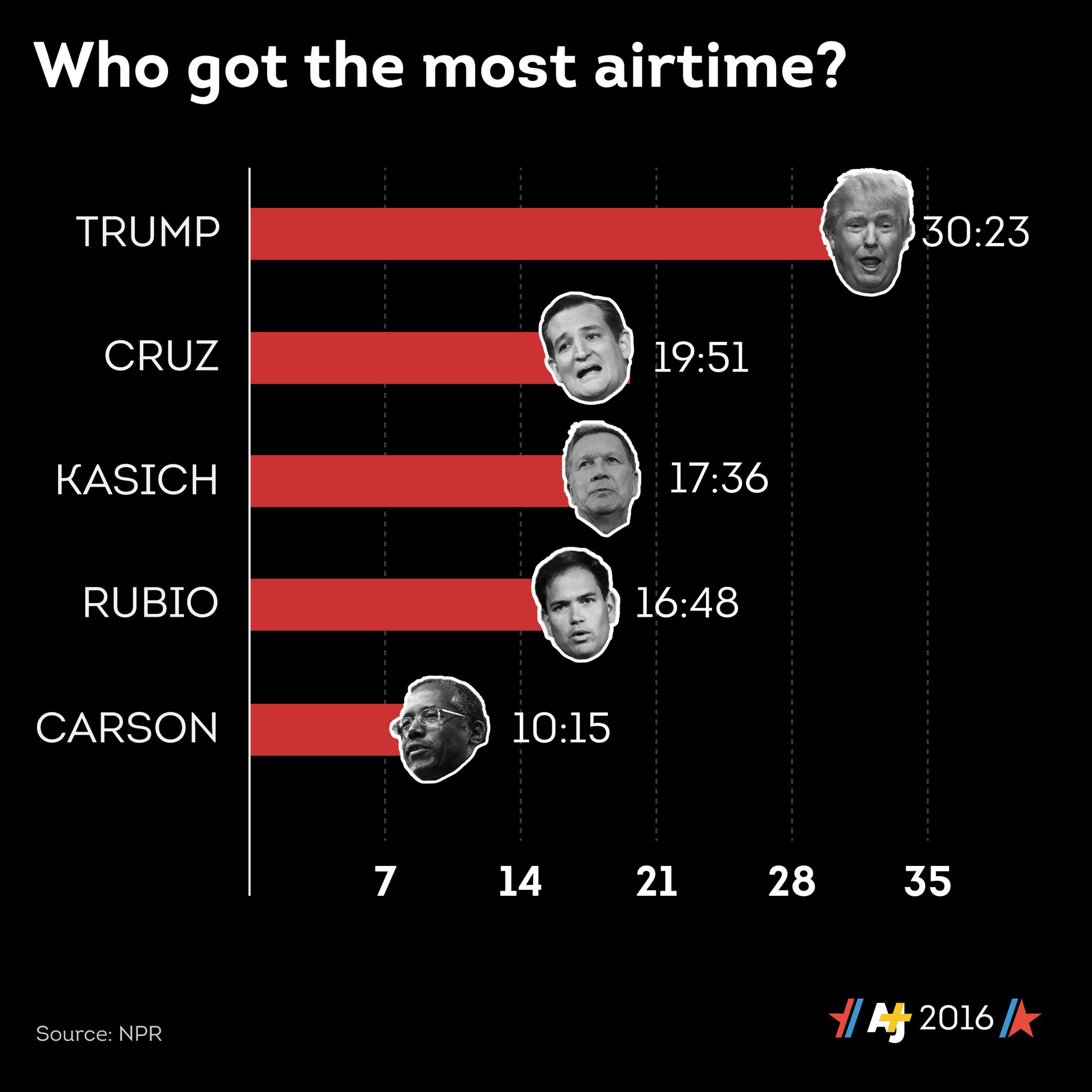 Ben Carson continues to amaze with the level of utter nuttiness with which he thinks and communicates. Carson is a top level example of how a person can achieve celebrity in one field via professional brilliance while existing as a total aardvark outside of their chosen specialty.
I have yet to hear one statement from Ben Carson that even approached speech after cogent thought.
Rubio a mere week before the campaign killing Super Tuesday votes enacted a strategy he should have deployed months ago.
Watch as Rubio turns the "...he repeats himself" table on Trump.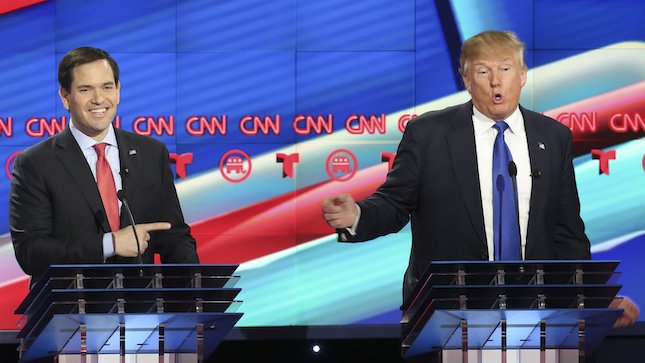 A brid
ged
version at the 4:29 minute mark
Full seven-minute embed
For those who didn't view either version of the Rubio mocking Trump via The Hill:
Trump repeatedly said during the CNN event in Houston that the centerpiece of his plan to replace ObamaCare was allowing insurers to cross state lines.
"Now he's the one repeating himself," Rubio said, interrupting the business mogul.





The billionaire businessman struck back, noting Rubio's past debate flub.
"I watched him repeat himself five times four weeks ago," he said.
"I saw you repeat yourself five times five minutes ago," the Florida senator quickly shot back.
"He says five things: Everyone is dumb, he's going to make America great again, win, win, win, he's rising at the polls, lines around the state," he said to another round of applause and laughter.
Rubio was roundly mocked for repeating a prepared answer during an early February debate even after Chris Christie, who has since dropped out of the race, called him out for it.
Rubio later blamed that performance for his poor showing in New Hampshire.
Read more linked above
Tax Returns?
Well before Trump declared himself a GOP presidential candidate, he was asked about the commonly accepted release of tax returns. The very issue that helped to place a big question mark on the head of Mitt Romney in the 2012 election cycle. Trump responded to conservative radio host Hugh Hewitt as such:
During last night;s GOP Debate (10), Trumps tax returns finally surfaced as a
credibility
issue.
Mid-afternoon today, The Hill also reported the IRS states there is no issues with Trump releasing his tax return.
"Nothing prevents individuals from sharing their own tax information," the IRS said in a statement.
"The IRS stresses that audits of tax returns are based on the information contained on the taxpayer's return and the underlying tax law — nothing else," the agency said. "Politics and religion do not factor into this. The audit process is handled by career, non-partisan civil servants, and we have processes in place to safeguard the exam process."
Policy, procedure and practice aside, some tax attorneys speak openly about caution regarding the release of tax information.
"It might not be smart"

for Trump to release his returns while under audit, said Robert Kovacev, a tax lawyer at Steptoe & Johnson and a former counsel in the Justice Department's tax division.
Joseph
Thorndike
, Director of the Tax History Project at Tax Analysts, also commented about t

he business of tax information release

.
"I'm sure a careful tax attorney would advise him not to disclose it in the middle of an audit," Thorndike said of Trump. "But an attorney would say not to disclose it anytime."
Tax returns for uber wealthy Republicans is as important as protecting Citizens United. While I can think of many issues of more critical importance, it is fun to see the Manhattan bloviator pushed back on his heels. Why should the IRS perform 12 years of audits on any American? Trump has an answer in his case; an answer typical of the Manhatten bloviator.
"I am a Christian"
Any surprise?
Politico's

11 most explosive moments

in Debate 10.
YOUR GOP
Preview of our next Trump piece.