The image above is stark, not phptoshopped, and the reality of the GOP, the administration, and American conservatism. Why ally the flag to the full scope and breadth of US conseravtism? Because we are not seeing nor reading any efforts to refute the Confederate flag with the party on the Right. While many will claim the flag as a mere case of an affinity for history and tradition, I offer the actual genesis of and meaning of the flag from the very developer of the battle field flag.
The following meme has been associated with development of the flag. While some refute William Thompson's work in development of the current versions of the flag, it should be noted the common denominator regarding the flag was racial superiority and human bondage.
So, let's take the first picture above and extrapolate the visual to a nascent case of white supremacy along with comment about the current US President.
CNN is running a special series on hatred in the United States.
What would a smorgasbord be without mention of this week's Senatorial run-off in the Great state of Mississippi.
And the winner was ....the candidate who was hugged up with a local cattle rancher and a candidate who unabashed used "pubic hanging" as a campaign mantra. The US Senator elect Cindy (Hang Um High) Hyde-Smith.
Elected in a state with this history.
From GOP politics to the holiday season and the Trump version of the White House Christmas decorations.
Caution: what follows isn't a doctored image.
The image doesn't represent anything regarding subliminal messaging. The image is what it is the 20198 version of Melania Trump's perception of Christmas.
That said, I must still offer: Why?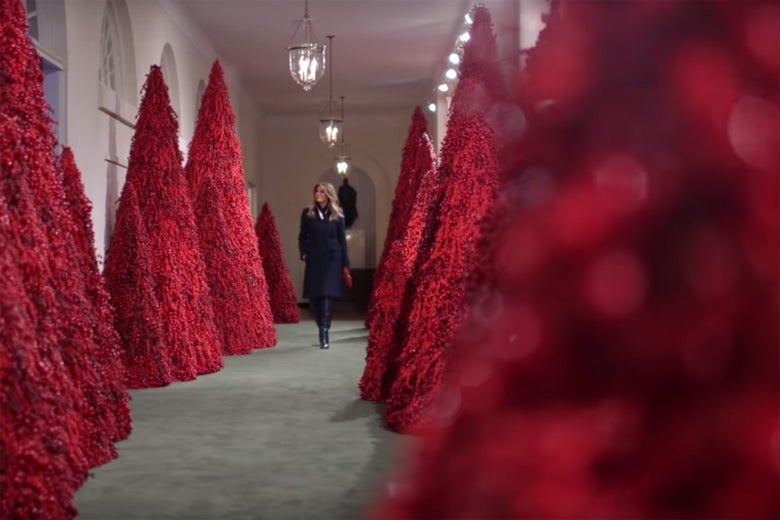 A bit of contrast.
Welp.....
On a much more serious note. A president who hasn't yet visited a US war zone to offer support to our troops and one who hasn't yet even mentioned the deaths of three US special operations troops in Afghanistan.
The Pentagon has identified the three U.S. special operations service members killed by roadside bomb in Afghanistan:
-Army Capt. Andrew Patrick Ross, 29.
-Army Sgt. 1st Class Eric Michael Emond, 39.
-Air Force Staff Sgt. Dylan J. Elchin, 25.
Fallen heroes unrecognized by a US Presdient.
Let's end on a quick meme run through General Motors, Presidential legal entaglements and a daughter's email.
And, we end another day in Trumpland and it is only 12 Noon.
We closed prematurely......A midday update.