As the US Congress continues to spend Federal budget dollars on investigations of the 2012 Benghazi tragedy, it is important to remind of a few points regarding the Select Benghazi Committee.
https://youtu.be/37uZ8snvdlA
Mere days after yet another member of the GOP House majority spoke the truth about the Benghazi committee (radio interview).
Kevin McCarthy basically blew himself up with that comment over the Benghazi committee. Sometimes the biggest sin you can commit in D.C. is to tell the truth. This may not be politically correct, but I think that there was a big part of this investigation that was designed to go after people and an individual, Hillary Clinton.

REP. RICHARD HANNA (R-NY)
https://soundcloud.com/bill-keeler/10-14-15-seg-9
(Relevant comments at the 9:30 mark)
The ultimate truism!
Think Progress developed and published a great read regarding the fallacy of the Select Committee. Ring of Fire Radio

re-posted

a critical set of visuals representation from the original piece.
The Republicans have led more hearings, investigations, and interviews regarding Benghazi than any recent American tragedy, including 9/11. After 9/11, there were two congressional committees charged with investigating the attacks. Eight committees were assembled to investigate the Benghazi attacks.
The number congressional hearings conducted for the Benghazi attacks, 32, far outpaced the number held for 9/11, 22. This number includes both public and private hearings. 9/11 was a highly sophisticated and organized terror attack, especially compared to Benghazi, yet, it received far less congressional scrutiny. The Benghazi investigation is completely politicized.
For more on this story, visit ThinkProgress "Proof That The Benghazi Investigation Is Totally Unlike Any Other, In Two Charts"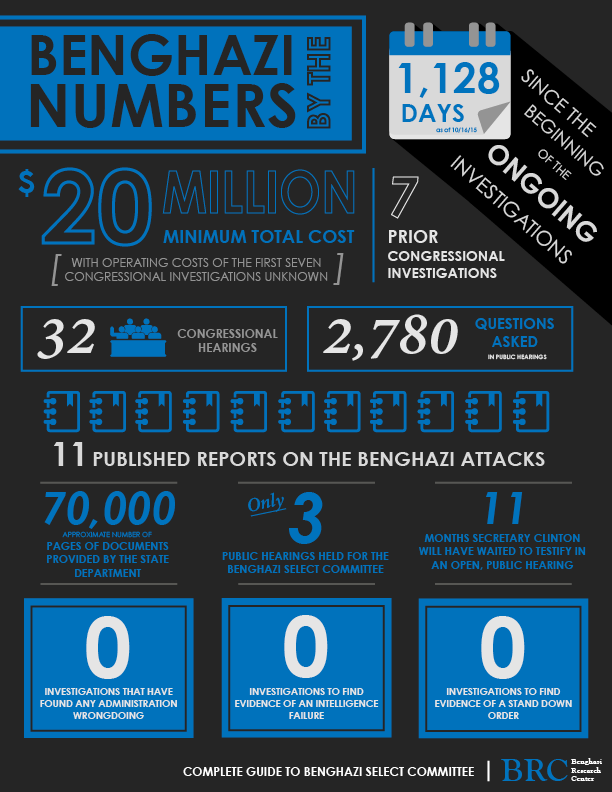 Lest we forget!