The context is disturbing.
As we move away from the ambush deaths of four US Army Special Forces troops in Niger, it is critical to note the US President has once again offered up a dose of insensitivity, callousness and an exhibition of indifference uncommon from a Commander-In-Chie
f

.
While responding to a question form the Rose Garden press corp Trump offered a lie based assertion that other US Presidents may have been lax in contacting the families of US troops killed in action. Within seconds Trump backtracked on his initial lie.
Should we responded with astonishment when we read reports Trump's call to the wife of one of the dead soldiers included typical Trump indifference to our armed forces?
Let's explore Trump's call for a bit.
The family of the dead soldier arrived at the site of her husbands arriving body after a call from Trump which took place via cell phone in the apparently on speakerphone.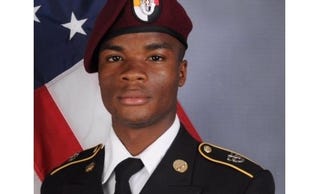 Myeshia Johnson and her daughter
Trump told his widow, who was in a car heading to the airport with her family and U.S. Rep. Frederica Wilson, D-Miami Gardens, that "he knew what he signed up for … but when it happens it hurts anyway," according to Wilson, who heard the call on speakerphone in the car.
Congresswoman
Frederica Wilson has sat for interviews on a few early morning news shows. The following is her segment on MSNBC's Morning Joe.

Of course, Trump responded to disavow along with a claim of proof.
"Democrat Congresswoman totally fabricated what I said to the wife of a soldier who died in action (and I have proof). Sad!"
Within weeks of occupying the Oval Office, Trump awakened the world with a claim Barack Obama, 44th President of the United States had his Trump Tower phones wiretapped He issued the false claim with " I have proof." It should be noted the department of Justice immediately stated the accusation had no merit. A deeper investigation yielded a final result that Trump's comments were not accurate. Link.
Two things stand out about Trump's proclamations and messaging when he is cornered. He frequently offers one of the following: "I have proof", "that's what I have been told", or "believe me." Of course, we hear the later far more than the " have proof" as "Believe me is often a closing comment after Trump has issued a classic Trumpism lie.
While we do not yet know which side of the story is the absolute truth, as the family has indicated Trump certainly disrespected the family and come in the car have specifically stated Trump didn't know the deceased soldier's name, we do know one thing for sure.
Take 41 seconds an watch the nonverbals. This man is lying. Tight arm fold, no waving hands et al.
No, we do not believe him.