Have you seen the tweeter post (below) across the Internet? If you haven't yet run across the Twitter post you are probably not one who visits Far-Right Nazi.white supremacists/ "alt-right" pages. You are certainly not linked to such pages or you would already serve as a conduit for propaganda from people who have an agenda.
The images in the tweets below are a clear case of Joseph Goebbels-like propaganda
for the advancement of
hatred and versions of conservatism.
have a look and read via the BBC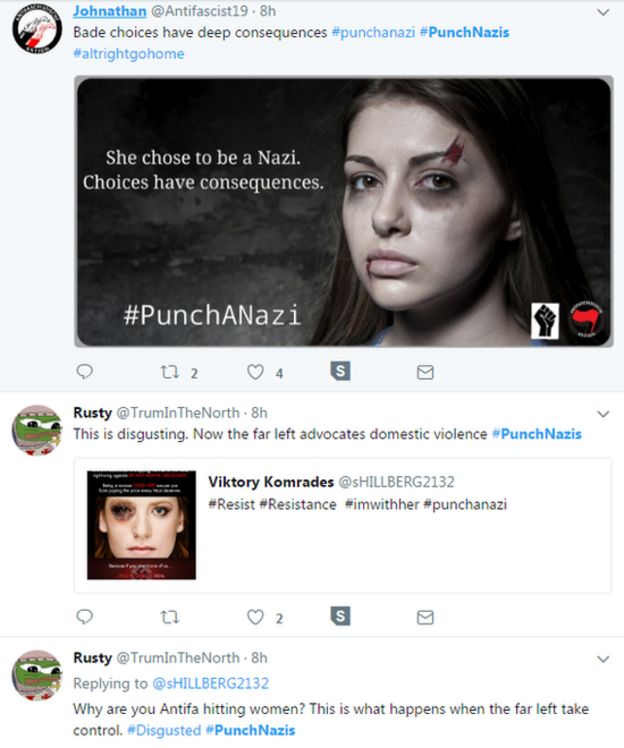 If you contrast the fake reports and messages with what follows, you get a real inner core look into the very racism and misogyny imbued in what has come to be in the GOP and American conservatism.
In April of this year, one of the nation's upper echelon white supremacists was capture cold-cocking a woman anti-fascist protester A real sucker punch he unloaded on the protester.
Here is a bit more on the man who hit women.
Here are more images of the Trump supporting white supremacist Nathan Damigo, the coward who sucker punched a WOMAN in Berkeley today pic.twitter.com/j6mkNHfhH6

— Tariq Nasheed (@tariqnasheed) April 16, 2017
The woman abuser is often pictured within an arms reach of white supremacists leader Richard Spencer.
As we have moved through the various information tricks and propaganda for conservative America, it is important to know one aspect of it all. It works on the minds of Americans who have been conditioned to accept all things conservative regardless of the information source. If the message comes through Drudge, The Daily Caller, Hannity (and greater Fox News), Limbaugh and Levine.
It works while servings as the top catalyst to elections of political figures like
Donald Trump.
The images from the tweets are of advertisements against woman abuse. The message works in recognizing and combating cases of domestic abuse; they also work for the white supremacists to impart false messages and deflection.