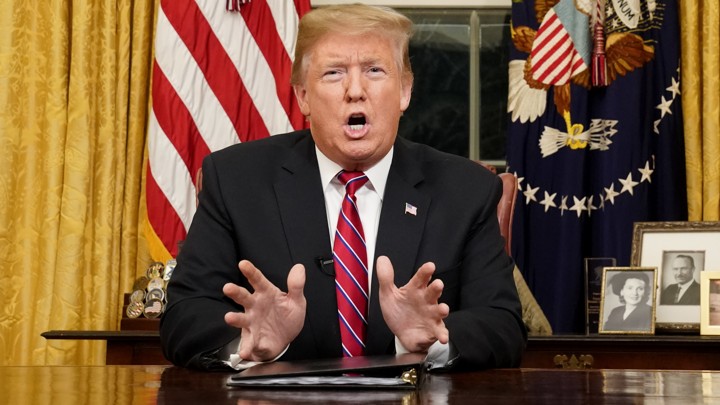 Pathetic
Oh, how we play the game differently.
In 2014 President Barack Obama requested air time to speak about the nation's growing immigration problem. He didn't get the time he requested; only liberal media ran the speech.
Before The Young Turks video, think about how all electronic media broadcast Trump's lie-filled fear mongering nine-minute diatribe against what he calls "illegal aliens." We will not post Trump's remarks here as we work to avoid exhibitions of utter manipulation and political posturing from an administration which is fizzling down to a heap of embarrassing garbage. In short we strive to avoid posting lies and at last count, the Washington Post tracked Trump's lie level since taking office in 2017 at over 7400. That means the lie for Trump is a pathology.
We prefer to post a definition of what the right calls "illegal aliens."
While we do not have numbers of successful illegal border crossings at the southern border is impossible to state accurately we can look at the number of apprehensions in 2017. Bloomberg offers a noteworthy review of southern border crossings or attempted crossings as well as where they are reported to have crossed into the US. The article states the number of successful crossings in 2015 down significantly from previous years. Data indicates the number of such crossings has dropped significantly after the Bush Great Recession.
Yes, we have Central American and Mexicans who wish to enter the US and many are or were doing so legally via presenting themselves at border stations with requests for asylum. They are not wanton lawbreakers in "caravans" seeking to enter the US. Recall the pre-election "caravan" which wasn't? How about Trump dispatching a few thousand US troops to the southern border for what amounted to a bivouac and gross waste of budget dollars?
"...they are bringing drugs." (Heroin and Fentanyl)
PBS
Drugs
The administration claims there has been a dramatic spike in illegal drugs entering the country at the southwest border. According to U.S. Customs and Border Protection

, there was an increase in the number of drug seizures of methamphetamine and fentanyl from fiscal year 2017 to fiscal year 2018. (The data for fiscal year 2018 doesn't have numbers for September.)
In a 2018 DEA drug threat assessment report, several of the drugs highlighted by Customs and Border Protection pass through legal ports of entry, not through illegal border crossings. (The agency traced most heroin and cocaine to privately owned vehicles passing through legal ports of entry. Fentanyl from Mexico is most often transported this way, too. Sometimes, drugs are mixed in with legal goods on tractor-trailers.)




According to drug threat assessments from the Drug Enforcement Administration, the majority of the drugs that cross the southwest border are brought in through official ports of entry. This has been the case for years.
David Bier, an immigration policy analyst for the libertarian Cato Institute, wrote in a December 2018 blog post noted that the drugs Border Patrol agents seize at official ports of entry were three times more valuable than the drugs seized outside of those ports.
"In other words, a border wall would not target the most valuable drugs crossing the border," Bier wrote.
The PBS article published mere hours before Trump took to US airways to pitch for a wall which will if built quickly become a major waste of US Funds If built a wall Trump convinced millions Mexico would pick up the tab. In the article, Bloomberg highlights and reviews nine facts regarding Trump's "border crisis" the non-crisis. Yet, we live every day with lie after lie from Trump and his cabal.
The daily doses of Trumpism also fit neatly into the revenue streams of US media.
There was enough red herring B/S to back P.T. Barnum into a submissive position, but the least of which is summed up in the following meme. Trump mentioned Murderers and graphically depicted three cases of murder perpetrated by immigrants. I offer the following as the most dangerous as we live our lives.
While only certain media ran with Obama's border address, we remind that all television networks carried the Trump nine minutes of lies as if the nation had again landed on the Moon.
The Young Turks and Obama's non-opportunity.
If you care to compare Obama's address with that which Trump delivered a few hours ago, you will have to seek it via a Google Search. We are moving to a position of only posting Trump's remarks as part of a fact check piece.
US media really must evaluate its role in advancing Trumpism. The networks are an active participating entity (and support beam) for Trump's reality TV administration while sharing Trump's incessant lies to people who may be gullible enough to believe the lies.