And, the polling numbers dwindle.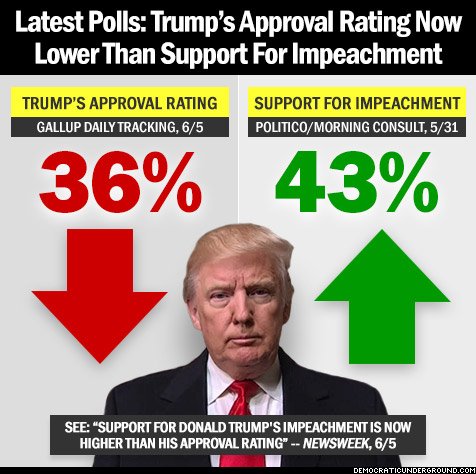 It also appears Trump's failing Admisntrtioan and Trump himself, are weighing on one of the Right's major communications sources.
There were just 26 brands appearing on Breitbart in May, down from a high of 242 in March.
Betsy DeVos was asked if her school grant program would allow discrimination in school.


She (painfully) couldn't give a straight answer: pic.twitter.com/w8IUpzDtFw
Amongst talk of the Trump regime moving the nation towards authoritarianism, we offer a few posts from Media Matters.
Let's start with one of Trump's crony sons.
Thirty-Seven seconds of the unbelievable and the dangerous.
Eric Trump admits he discusses Trump Co. business with President Trump but claims there's no conflict of interest. pic.twitter.com/cXmUcm5tks

— Keith Boykin (@keithboykin) June 7, 2017
Do you recall the use of dehumanizing mantra and slogans to facilitate mind shaping towards a goal of privilege for a self-anointed upper class (race, social group, organizational)? "Redskins, Savages", "cockroaches" (Rwanda), Abschaum - scum; a derogatory expression used for political adversaries of the Nazis; "money-grubbing Jews", "Nigger lovers", et al.
We are also finding ourselves facing a set of Trump sons who have embarked on a campaign to band-aid and possible heal growing concerns about Trump's failing administration.