2
015 MSNBC graphic
Chris Hayes's ALL IN on white supremacy as a national threat (video). link.
In 2016, Newsweek ran a piece about the trial of a white supremacist and included related cautions in the piece. link.
We have also found a case of a black spree killer who claimed he wanted to kill white people. I suggest the killer's case is very much isolated and probably influenced by a well-developed case of insanity.
In March of this year, we found a white supremacist who traveled to New York City to perpetrate a killing on the basis of a high population of minorities. He killed a homeless man as the man rummaged through a dumpster.
Over the past 48 hours, a well-known white supremacist in the Portland area carried out his mission. While a passenger on a Metro bus the terrorist embarked on an anti-Muslim rant. He eventually stabbed to death two people who attempted to calm him down while intervening for peace.
US Terrorist.
The Portland (Oregon) Mercury's article on the US terrorist and his background of white supremacy.
The Mercury allows reposting of its articles in full and in part We feel the full story of the latest US terrorist to perpetrate murder shod be published in total.
Suspect in Portland Hate Crime Murders is a Known White Supremacist
Jeremy Christian, 35, was booked early Saturday morning on two aggravated murder charges, an attempted murder charge, two intimidation (hate crime) charges, and a felon in possession of a restricted weapon charge.
The Portland Police Bureau (PPB) reported that the man "was on the MAX train yelling various remarks that would be best characterized as hate speech toward a variety of ethnicities and religions. At least two of the victims attempted to intervene with the suspect and calm him down. The suspect attacked the men, stabbing three, before leaving the train."
Witnesses told the police that he was harassing two women who appear to be Muslim. One was described as wearing a hijab. One of the men he stabbed died at the scene, one was pronounced dead at a hospital, and one is expected to survive.
A few Portland police officers on April 29 appeared to be familiar with Christian, but not threatened by him. They claimed he had a head injury and was mentally ill.
Here's my video of Christian, draped in a flag, arriving at the event.
Here's another video. At the 25-second mark, he yells "fuck all you n*****s". The right-wing rally organizers refused to let him in.
Shortly later, I asked him his name. I recognized the name and remembered the he posted on Facebook that he'd shoot police officers if they tried to disarm him (he was never arrested).
He later gave the Nazi salute.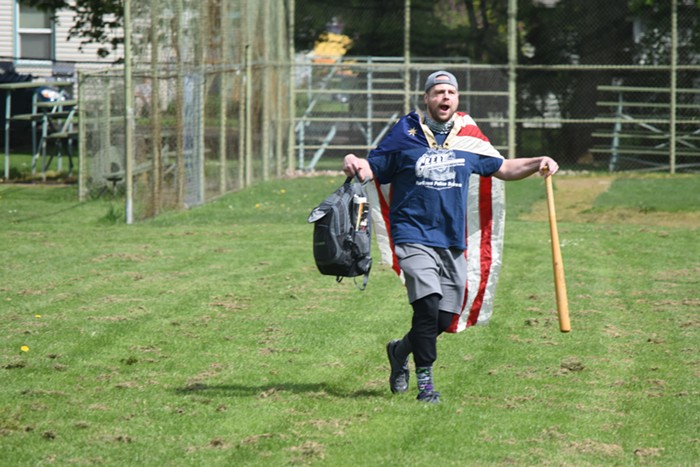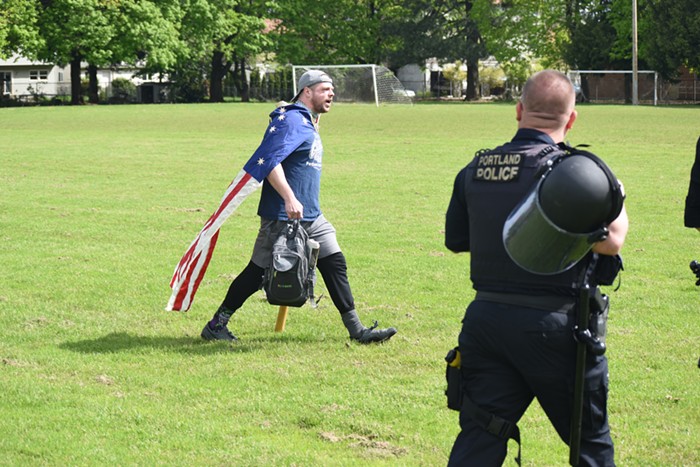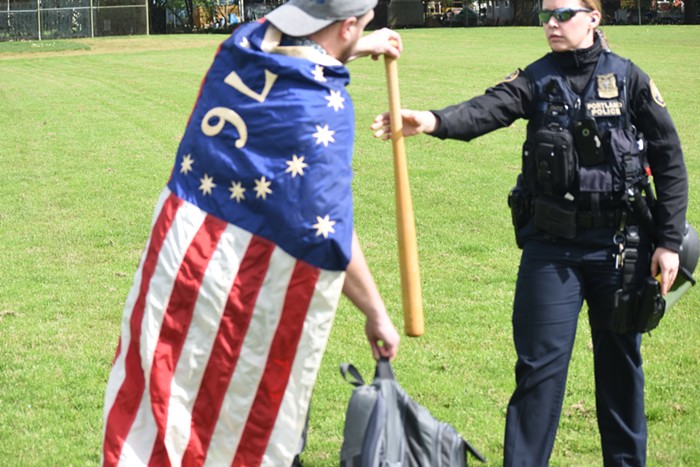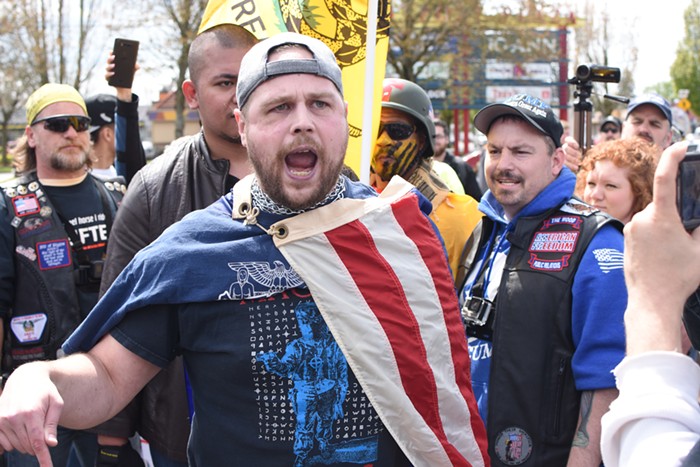 Update: Christian has a criminal record that includes a host of felonies going back to 2002, when he was convicted of first-degree robbery and second-degree kidnapping. He also has a conviction for carrying/using a dangerous weapon from 2002.
His Facebook page is replete with anti-Semitic comments and other evidence of his views. Here are some examples.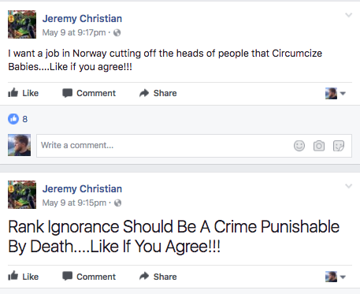 Mayor Ted Wheeler, who was flying from London to Portland when the crime occurred, issued his first statement this morning:
"There is too much hatred in our world right now, and far too much violence. Too much of it has arrived here in Portland," Wheeler said in a press release. "My heart goes out to the families of those who lost their lives, and to those who witnessed what happened. Thank you to our first responders, who provided aid, and police who captured the suspected killer. Now is the time, we must come together as a community and love one another. We must reject hatred and violence. We must seek justice."
_________________ End Portland Mercury________________
Take a graphic look at how US whtie supremacy has developed on social media.