In August 2018, Farm Futures Bryce Knorr published a piece regarding US Ag/farmer support for Donald Trump. We are posting a graphic from the
piece to make a point. A point other than verbiage about the plight of US farmers under Trump
If you follow US politics data indicating almost total farm support won't surprise you in any manner. Let's take a quick look at a graphic from the Farm Futures piece.
No surprise, eh? Jill Stein? Well, it could be marijuana growers may have voted to a form the false Stein mantra of free and pen legalization of pot.
Jewish Americans
U.S. Presidential Elections:
Election

Year

Candidates

% of Jewish Vote

% of National Vote

1916

Hughes (R)

Wilson (D)

1920

Harding (R)

Cox (D)

Debs (Socialist)

1924

Coolidge (R)

Davis (D)

LaFollette (P)

1928

Hoover (R)

Smith (D)

1932

Hoover (R)

Roosevelt (D)

1936

Landon (R)

Roosevelt (D)

1940

Wilkie (R)

Roosevelt (D)

1944

Dewey (R)

Roosevelt (D)

1948

Dewey (R)

Truman (D)

Wallace (Progressive)

1952

Eisenhower (R)

Stevenson (D)

1956

Eisenhower (R)

Stevenson (D)

1960

Nixon (R)

Kennedy (D)

1964

Goldwater (R)

Johnson (D)

1968

Nixon (R)

Humphrey (D)

Wallace (Progressive)

1972

Nixon (R)

McGovern (D)

1976

Ford (R)

Carter (D)

1980

Reagan (R)

Carter (D)

Anderson (I)

1984

Reagan (R)

Mondale (D)

1988

Bush (R)

Dukakis (D)

1992

Bush (R)

Clinton (D)

Perot (I)

1996

Dole (R)

Clinton (D)

Perot (I)

2000

Bush (R)

Gore (D)

Nader (I)

2004

Bush (R)

Kerry (D)

2008

McCain (R)

Obama (D)

2012

Romney (R)

Obama (D)

2016

Trump (R)

Clinton (D)
A
merican Jews tend to favor Democrat candidates, with 71% of Jewish voters choosing Democrat candidates and only 25% choosing Republicans since 1968.
* - Number as percentage of popular vote
Again Trump and his wordsmith operatives have blown it. Jewish leaders have come down strong in condemnation of Trump's weaponizing Jews while avoiding direct countermeasures against growing Right-wing Nazism and public displays of hatred of Jews. Loyalty?
The Hill
Jewish groups condemned President Trump's Tuesday remarks calling American Jews who vote for Democrats disloyal.

The groups said that the president's Oval Office comment wrongly suggests Jews have a dual loyalty claim to Israel and plays on anti-Semitic tropes.
"This is yet another example of Donald Trump continuing to weaponize and politicize anti-Semitism. At a time when anti-Semitic incidents have increased — due to the president's emboldening of white nationalism — Trump is repeating an anti-Semitic trope," said Halie Soifer, the Jewish Democratic Council of America's executive director.
Well, just another issue in the long-running Trump reality show.
Do you think we are being over critical and blaming Trump for the nation's racist ills? Trump is but a facade of the underbelly of US conservatism. He is the physical manifestation of all that the Right has become since Richard Nixon (Kevin Phillips) and Ronald Reagan (Lee Atwater) planted the seeds of the Southern Strategy in the 70s and 80s. Let's think frankly while being honest with ourselves; the nation was a bedrock of racism and bigotry until FDR, Harry Truman and Eisenhower respectively took measures to desegregate the US military.
From coast to coast the US existed for centuries with pockets of quasi- bigot free zones (In the Northeast and parts fo the far West) while nurturing far more geography swaths of overwhelming racism across most to of the land.
Let's take a look and finish with a very recent rendition of US racism.

Ah yes, the last two images were from South Africa's apartheid past. Please forgive the error in posting, if you believe we posted the two images in error. If you are coy enough to understand our choice to post the two final images, you without question know why.
Now for a modern-day example of US racism. No, we are not going to revisit Donald Trump and US white nationalism we have a much more neighborly example.
An actual Fox News-like racist running for City Council about 50 miles North of Detroit Michigan. A USA Today excerpt of Jean Cramer's opening remarks during a council meeting just a day ago.
Let's take another look while recognizing these racists are becoming an increasing scar on a nation which formerly considered itself a world equality leader and societal beacon. These people now live and thrive and spread in the United States.
We got through that overt example of white supremacy with even mention the GOP's Steve King.
Final thought She spoke openly; just think of the scope and breadth of similar mindsets who uck among you.
Yes, Cramer is the consummate racist.
The MAGA Hat
During a recent point-counterpoint on social media, I was confronted with the words (paraphrased). I am proud of my hat and why is it an issue? It is just a cap.
Yes of course......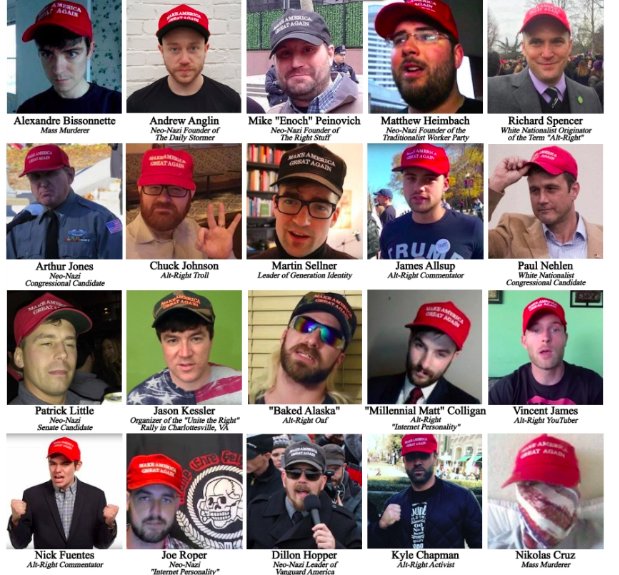 Until next time!